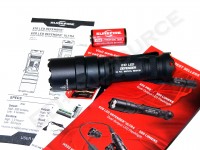 Single-cell lights have been encroaching on the "primary light" role is currently held firmly by two-cell lithium 123A lights, and the recently introduced SureFire E1D LED Defender (E1DL) has pushed the capability of compact lights even further. This shortened version of the two-cell E2D LED Defender Ultra has an impressive maximum output of 300 lumens, yet retains the same 1.3 hour runtime as the 200-lumen EB1 Backup. Rather than having a subdued design like the Backup, the SureFire E1D LED Defender is also designed to provide personal protection with its aggressive crenellations.
Key Specifications
Output: 300 lumens high, 5 lumens low
Intensity: 6,620 candela
Runtime: 1h 15min high, 60h low
Battery: 1 x 123A
Length: 4.25″
Diameter: 1.1″ bezel, 0.8″ body
Weight with Batteries: 3.1 oz.
Colors: Black
Warranty: Limited Lifetime
MSRP: $240
Actual Pricing: ~$200
Pricing & Contents
MSRP for the E1DL is $240, and the light is only available in black. We received our E1DL in pre-production packaging, but production models will come in a cardboard box with similar contents including: SureFire E1D LED Defender, 1 x SF123A lithium battery (installed), SureFire sticker, and user manual.
Batteries
The E1DL is powered by a single lithium 123A battery and fully compatible with 3.2V lithium-phosphate batteries, such as the K2 Energy LFP123A that SureFire offers as a rechargeable alternative.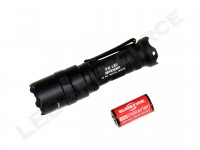 Lithium batteries have higher energy density than regular batteries, so low-quality or counterfeit batteries can be dangerous to use. SureFire recommends using only quality lithium batteries from Duracell, Energizer, Panasonic, or SureFire.
The Light
The E1DL has a length of 4.25", which is slightly smaller than the EB1. The aluminum body is type-III anodized for protection against scratches and corrosion.
Head
Behind the crenelated Strike Bezel is an anti-reflective coated glass window that protects the Total Internal Reflection (TIR) optic. The E1DL also features notches on the head, which helps stop the light from rolling.
Like the Backup and the new E-Series lights, the E1DL has springs on both the head and tail contacts for increased reliability.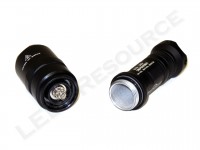 Body
The E1DL has several small bands of knurling on the body, and a two-way pocket clip allows bezel-up or bezel-down carry.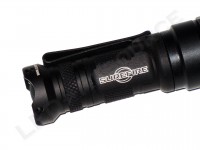 Tail Cap
Crenellations are also found on the tailcap, which are less aggressive than those on the bezel, and allow the light to tail-stand easily.
To activate the lockout tailcap feature, unscrew the tail cap until the light no longer turns on (about a quarter-turn).
Modes
Two output levels can be activated using the tail switch.
High (300 lumens)
A single press or click will activate maximum output.
Low (5 lumens)
Two presses or clicks within one second will activate low output.
Performance
Using a Cree XP-G2 LED, the E1DL has a maximum output of 300 lumens and 6,620 candela. The TIR optic produces a focused beam pattern with a relatively large hotspot.
For comparison, beam comparisons with the EB1 (original version with Cree XP-E) and EB2 are below.
Runtime
If you haven't read our article about runtime graphs and the ANSI FL1 Standard, please click here.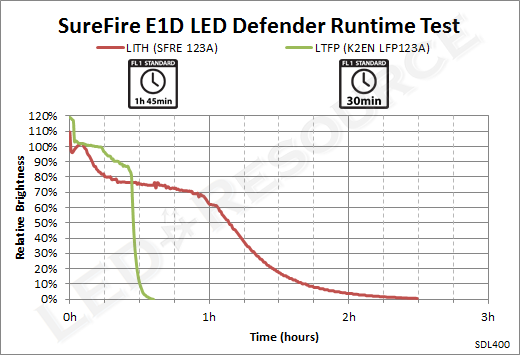 SureFire has begun using ANSI FL-1 Standard specifications (rather than tactical runtime, which is measured until output drops below 50 lumens), and the E1DL is rated for 1.3 hours on maximum output. Output is relatively stable during the first hour of operation, and the E1DL provides useful output for another hour before being limited to low output only.
Conclusion
If the need arises and overwhelming output isn't sufficient to get you away from an aggressor, the Defender's Strike Bezel is sharp enough to be used for personal defense. These sharp crenellations could also cause problems carrying the SureFire E1D LED Defender, such as scratching other items or wearing through the fabric. While not quite as pocket-friendly as the EB1 Backup, the E1DL offers the same self-defense characteristics as the larger E2DL Ultra but without the added length of a two-cell light.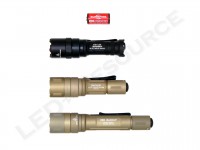 The SureFire E1D LED Defender has an uncompromising balance of compact size and high output, making it perfect for everyday-carry. With a relatively large hotspot, the E1DL is great for most short- to medium-range tasks while having sufficient reach for distant objects. Output regulation is also improved in this single-cell light, providing a solid hour of runtime of consistent output.
---
Pros
Cons

Maximum output of 300 lumens
Dual-output, high and low modes
TIR optic with large hotspot
Crenellated Strike Bezel
Two-way pocket clip
Lifetime warranty

Expensive
Crenellations could damage clothing
---
Related Links
SureFire E1D LED Defender Product Page
SureFire LFP123A Charger Kit Product Page