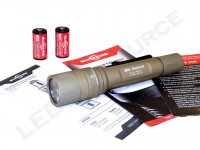 Is the SureFire EB2 Backup still a backup, or is it a primary light with a humble name? Derived from the compact single-cell EB1 Backup, the EB2 Backup is a two-cell version with increased performance and up to 500 lumens of output. The EB2 has more than two hours of tactical runtime, or 67 hours on the 5-lumen low mode, and is available in two colors – black or desert tan. Like the EB1, the EB2 has the same subdued styling and a choice of click-type or two-stage tactical tail switching.
Key Specifications
Output: 500 lumens high, 5 lumens low
Intensity: 16,000 candela
Runtime: 2h 15min high, 67h low
Battery: 2 x 123A
Length: 5.8″
Diameter: 1.1″ bezel, 0.8″ body
Weight with Batteries: 4.2 oz.
Colors: Black, Tan
Warranty: Limited Lifetime
MSRP: $235
Actual Pricing: ~$175
Pricing & Contents
MSRP for the EB2 Backup is $235, and the light is available in two colors (black or tan) with two tailcap options (tactical and click-type). Black has a standard smooth finish, whereas the tan version has a slightly rough finish that is less slippery.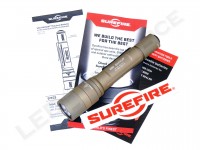 We received our EB2 in pre-production packaging, but production models will come in a cardboard box with similar contents including: SureFire EB2 Backup, 2 x SF123A lithium battery (installed), SureFire sticker, and user manual.
Batteries
The EB2 is powered by two lithium 123A batteries and fully compatible with 3.2V rechargeable lithium-phosphate batteries, such as the K2 Energy LFP123A that SureFire offers as an alternative to expensive primary batteries.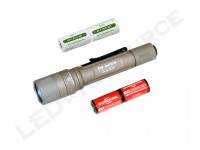 Lithium batteries have higher energy density than regular batteries, so low-quality or counterfeit batteries can be dangerous to use. SureFire recommends using only quality lithium batteries from Duracell, Energizer, Panasonic, or SureFire.
The Light
The EB2 has a length of 5.8", which is slightly longer than the average tactical flashlight. The aluminum body is type-III anodized for protection against scratches and corrosion.
Head
Behind the crenelated bezel is an anti-reflective coated glass window that protects the Total Internal Reflection (TIR) optic. The EB2 has the same dual-spring design as the EB1, which uses springs on both the head and tail contacts for increased reliability.
Body
The EB2 is a pocket-friendly light and lacks aggressive knurling. The two-way pocket clip, which also stops the light from rolling on a flat surface, allows bezel-up or bezel-down carry.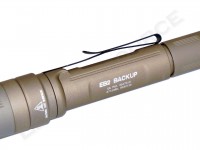 Tail Cap
Two switch options are offered, and the tactical model is shown below. Tail caps are not interchangeable, as the electronics in the tactical version are programmed differently.
To activate the lockout tailcap feature, unscrew the tail cap until the light no longer turns on (about a quarter-turn).
Modes
Two output levels can be activated using the tail switch.
Low (5 lumens)
On the tactical model, reduced output mode is activated by a half-press for momentary, or a quarter-twist for constant-on.
On the click-type model, two presses or clicks will activate low output.
High (500 lumens)
On the tactical model, maximum output is activated by a full-press for momentary, or almost a full-twist for constant-on. Momentary maximum output can always be activated by fully pressing the tailcap, even from constant-on low output.
On the click-type model, a single press or click will activate maximum output.
Performance
Using an Osram Oslon Square LED, the EB2 has a maximum output of 500 lumens and 16,000 candela. The EB2 (and E2DL Ultra) is among the first to use this LED in a flashlight, and the small surface area of the Oslon Square results in a tight beam pattern even with the same TIR optic as the EB1.
Beam pattern is focused and clean, and the hotspot is slightly bigger than that of the EB1.
Runtime
If you haven't read our article about runtime graphs and the ANSI FL1 Standard, please click here.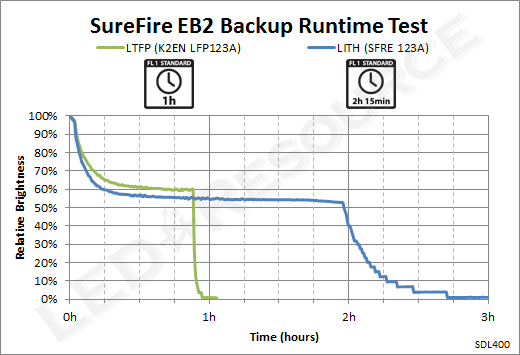 SureFire uses tactical and total runtime, which are not necessarily consistent with ANSI FL-1 Standard specifications. For the EB2, maximum output runtime is given as tactical runtime (measured until output drops below 50 lumens), and lower output runtimes are given as total runtime until battery exhaustion.
During the first 15 minutes of operation, the EB2 uses step-down regulation to reduce output to 60% and have an extended runtime of 2h 15min. Compared to the P2X Fury, which is also 500 lumens but with a more gradual step-down, the EB2 has an extra hour of useful output at more than 250 lumens.
Conclusion
Even though it has Backup engraved on its side, the SureFire EB2 Backup is certainly a capable primary light. The EB2 uses a TIR optic to focus 500 lumens of output into a far-reaching beam, and optimized regulation balances output and runtime. As with the EB1 Backup, the EB2 is unobtrusive when carried in a pocket due to its slender and smooth styling, and includes a two-way pocket clip. The Backup series is notable for smooth styling that doesn't get in the way of clothing, and aggressive designs aren't always ideal for every user.
Among SureFire's lineup of high-output lights, the EB2 sits above the entry-level P2X Fury (now a series that includes Defender and CombatLight models) and below the E2D LED Defender Ultra (not shown above). The EB2 has a smaller bezel than the P2X and lacks the crenellations and Strike Bezel of the E2DL Ultra, making it a simple, no-frills primary light. No matter how you look at it, the SureFire EB2 Backup is more than just a secondary light.
---
Pros
Cons

Maximum output of 500 lumens
Dual-output, high and low modes
Multiple tailcap switching options
TIR optic with smooth beam pattern
Two-way pocket clip
Lifetime warranty
---
Related Links
SureFire EB2 Backup Product Page
SureFire LFP123A Charger Kit Product Page