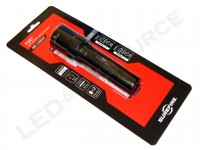 SureFire has a reputation of being the best when it comes to quality, but quality comes with a price. That's changing though, with the 6PX and G2X family of lights that deliver not only high-output, but also high-value. Built on the 6PX platform is the P2X Fury, producing a maximum output of 500 lumens while maintaining a reasonable runtime of 1.5 hours. Let's take a closer look at what SureFire refers to as a "pocket-sized searchlight."
Key Specifications
Output: 500 lumens high, 15 lumens low
Intensity: 9,400 candela
Runtime: 1h 30min high, 46h low
Battery: 2 x 123A
Length: 5.4″
Diameter: 1.37″ bezel, 1.0″ body
Weight with Batteries: 5.7 oz.
Warranty: Limited Lifetime
MSRP: $155
Actual Pricing: ~$120
Pricing & Ordering
MSRP for the SureFire P2X Fury is $155, and the light is only available in black.
In The Box
Included in the blister packaging are: SureFire P2X Fury, 2 x 123A lithium batteries (installed), user manual, battery safety notice, registration card, and a SureFire sticker.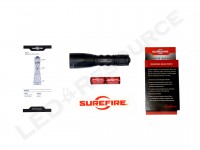 Batteries
Like most of SureFire's lights, the P2X Fury uses lithium 123A batteries. These batteries have twice the voltage of a common 1.5V AA battery, and this high energy density makes them ideal for high-powered flashlights.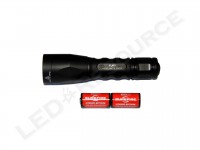 High energy density also makes it essential to only use quality 123A batteries, as low-quality or counterfeit 123A batteries can be dangerous. SureFire recommends only using Duracell, Energizer, Panasonic, or SureFire branded CR123's. Rechargeable 3.2V lithium phosphate 123A batteries can also be used.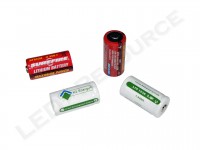 The Light
Head
The head features an anti-reflective coated glass window and a textured reflector. Flat areas on the head stop the light from rolling away when set on a flat surface.
Body
The body is type-III anodized, which is a tough finish that resists scratches and corrosion. Instead of knurling, the Fury has a sculpted body which is smooth and easy to grip.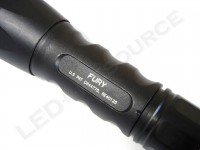 Tail Cap
On the tail cap is a forward click switch, which is covered with textured rubber. To activate the lockout tailcap feature, unscrew the tailcap until the light no longer turns on (usually about a quarter-turn).
Modes
Based on the 6PX Pro, the P2X Fury is also a dual-output flashlight designed for non-tactical use.
Low
With the first press or click, the 15 lumen low mode is activated.
High
After returning to off, a second press or click activates the maximum output of 500 lumens.
Performance
With the combination of high-energy 123A batteries and a high-performance Cree XM-L LED, the Fury is capable of a maximum output of 500 lumens. This is equivalent to a 40W incandescent light bulb, which is an incredible amount of light from a compact flashlight. A textured reflector produces a smooth and floody beam pattern that easily lights up a wide area.
Runtime
If you haven't read our article about runtime graphs and the ANSI FL1 Standard, please click here.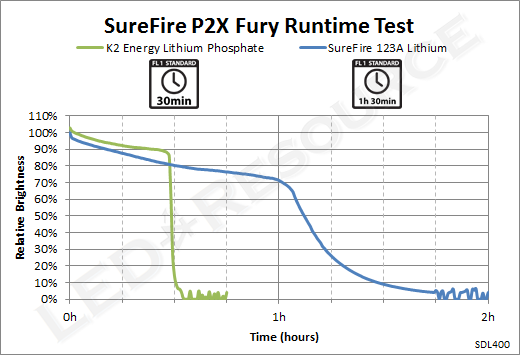 SureFire states runtime for their lights as "tactical runtime," which is runtime until 50 lumens. For the Fury, the tactical runtime coincides with the ANSI FL1 Standard because 10% initial output is 50 lumens. Runtime is significantly shorter with rechargeable lithium phosphate 123A batteries, so we would recommend carrying a spare set of primary 123A's if you will be without access to a charger.
Accessories
SureFire offers several accessories for the Fury, including spare battery carriers, filters and diffusers, and lanyards. More interesting, however, is the rechargeable 123A battery kit that we received to test with the Fury.
Manufactured by K2 Energy, the 3.2V lithium phosphate 123A batteries have a capacity of 600mAh. Compared to 3.0V lithium primary 123A batteries, which are approximately 1500mAh, the rechargeable lithium phosphate batteries last about half as long. That being said, the rechargeable kit not only pays for itself after just a couple charge cycles, but they are also safer to use than lithium primaries.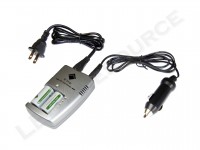 Pricing for the kit, which includes two batteries and a charger, is expected to be $29, and additional pairs of batteries can be purchased for $12. Both the kit and extra batteries will only be sold on the SureFire website and should be available for order within a couple weeks.
Conclusion
There's no doubt in our minds that the SureFire P2X Fury is bright – 500 lumens is a serious amount of output. Even more impressive than its output is the moderately priced MSRP of $155, with many retailers selling the Fury for even less. If you've been using tactical lights for a while, you are probably already familiar with using 123A batteries. However, for those who are new to the battery type, the SureFire rechargeable lithium phosphate kit makes it easy to overcome the expense of lithium 123A batteries and still get great performance from the Fury.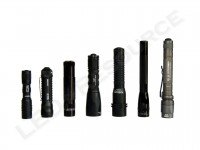 Our only gripe with the P2X Fury is that the low mode activates first, and after getting accustomed to the 500 lumen high mode, the low mode really doesn't seem very bright. Even though the P2X Fury isn't designed for tactical use, we would have preferred a little more light on the low mode because it's quite a big jump from 15 lumens on low to 500 lumens on high. When we mentioned this to SureFire, we learned that the P2X Fury is actually just the first model in the Fury family of lights, with Tactical, Defender, and CombatLight versions due to release in several months.
If the dual-output of the P2X Fury is not the thing for you, the upcoming tactical versions will feature one-step access to high. It's always good to have choices, right?
---
Pros
Cons

Maximum output of 500 lumens
Dual output modes
Smooth beam pattern
Lock-out tail cap
Solid build quality
Lifetime warranty

Low mode comes on first
Expensive lithium batteries
---
Related Links
SureFire P2X Fury Product Page
SureFire LFP123 Charger Kit Product Page