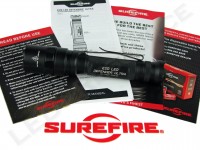 Slender and powerful, the E2D LED Defender Ultra is SureFire's latest addition to the Defender line of illumination tools.  Like the previous E2D LED Defender, the new Ultra provides two output levels and self-defense enhancements at both the head and tail cap.  Equipped with a larger LED and newly designed optic, the Ultra is rated to provide a blinding 500 lumens of output in high mode as well as a long-running 5 lumen low mode suitable for up close tasks.
Key Specifications
Output: 500 lumens high, 5 lumens low
Intensity: 16,000 candela
Runtime: 2h 15min high, 67h 45m low
Battery: 2 x 123A
Length: 5.6″
Diameter: 1.125″ bezel, 0.8″ body
Weight with Batteries: 4.2 oz.
Colors: Black
Warranty: Limited Lifetime
MSRP: $265
Actual Pricing: ~$186
Pricing & Contents
MSRP for the E2D LED Defender Ultra is $265.  Included in the box are: SureFire E2D LED Defender Ultra, 2 x SF123A lithium battery (installed), user manual, registration card, and a SureFire sticker.
Batteries
Although it comes equipped with two SureFire lithium 123A primary batteries, the Ultra can also be powered by 3.2V rechargeable lithium-phosphate LFP123A batteries.  The batteries are supported by springs at both the head and tail.
The Light
As with previous LED Defender versions, the E2DL Ultra features distinctive styling with the crenellated bezel for self-defense purposes as well as aggressive body knurling and a flared tail cap.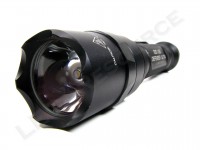 Head
A tempered anti-reflective coated window provides protection for the Total Internal Reflection (TIR) optic which is used to produce a tight beam with enough surround light for peripheral vision.  The bezel crenellations of the Ultra are less aggressive than earlier versions and slightly beveled, reducing potential for snagging when inserting the Ultra into a pocket or SureFire's optional V82 nylon holster.
Body
The body is Mil-Spec hard anodized for increased durability and is matte black in appearance.  A two-way clip is provided which allows the Ultra to be carried in bezel-up or bezel down positions.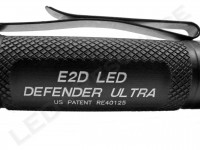 Tail Cap
Housed in the partially shrouded tail cap, a click-type switch is used to operate the Ultra.  The shroud is deep enough to allow the Ultra to tail-stand on a flat surface.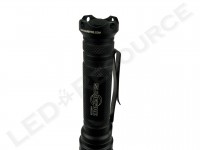 Unintentional actuation can be prevented by rotating (loosening) the tail cap approximately one-quarter turn.
Modes
The tail switch can be used to activate either of two output levels.  Partially pressing the switch will produce momentary output while a full press, and click, will result in constant-on output.
High (500 lumens)
The E2DL Ultra will always start in maximum output mode with the first press or click of the tail switch.
Low (5 lumens)
The lower output mode is selected by returning to off and pressing or clicking the tail switch again within 2 seconds.
Performance
The E2DL Ultra is rated at a maximum output of 500 lumens and 16,000 candela.  The 22mm TIR optic produces a bright center hotspot with an extremely broad spill beam.  The overall beam is smoother and has fewer artifacts than previous generations of TIR optics.
Runtime
If you haven't read our article about runtime graphs and the ANSI FL1 Standard, please click here.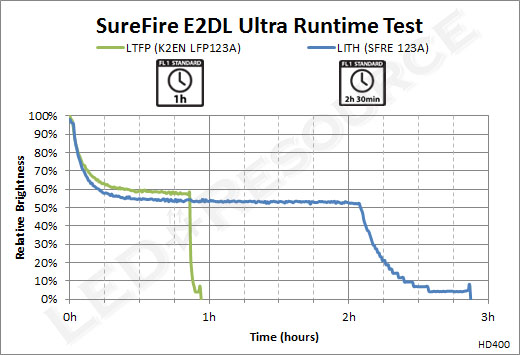 SureFire uses tactical and total runtime, which are not necessarily consistent with ANSI FL-1 Standard specifications. For the E2D LED Defender Ultra, maximum output runtime is given as tactical runtime (measured until output drops below 50 lumens), and lower output runtimes are given as total runtime until battery exhaustion.
After a few minutes at full output, thermal regulation causes the E2DL Ultra to reduce output to below 60% which provides an extended runtime of 2h 30min, similar to the EB2 Backup.
Conclusion
Although the E2D LED Defender Ultra provides the same, or higher, output as much larger lights, it remains compact and easy to carry and use.  The two-way clip allows multiple carry options and the flared tail cap and plentiful knurling provide a secure grip.  Blinding output, solid construction, and the crenellated bezel also allow the Ultra to be used as a self-defense tool, befitting the Defender name.
With the addition of a more powerful LED and larger redesigned TIR optic, the Ultra produces a very useful beam pattern, managing to combine long reach with an impressive amount of spill.  As a result, peripheral vision is greatly improved when compared to most reflector-based lights of similar output and reach.  With this versatile beam and two levels of output, the E2D LED Defender Ultra is suitable for a wide range of uses.
---
Pros
Cons

Versatile and useful beam
Good runtime (although at less than full rated output) with long taper as batteries become depleted.
Two-way carry clip

Compact size

Lifetime warranty

Trademark aggressive styling may not be acceptable or appealing to everyone
High retail price
---
Related Links