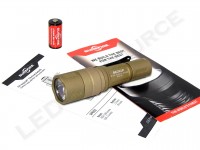 Compact and even more powerful than before, the new SureFire EB1 Backup combines increased output with a larger optic that produces an intense, focused beam. As with the previous E1B Backup, the upgraded EB1 Backup is a dual-output single lithium 123A light, but the EB1 offered with one of two tailcap switching options: either a click-type switch like the E1B, or a new two-stage tactical switch. Both models allow immediate access to the 200-lumen maximum output with a single press, and the 5-lumen reduced output low mode prolongs battery life during extended use.
Key Specifications
Output: 200 lumens high, 5 lumens low
Intensity: 10,000 candela
Runtime: 1h 15min high, 40h low
Battery: 1 x 123A
Length: 4.5″
Diameter: 1.1″ bezel, 0.8″ body
Weight with Batteries: 3.2 oz.
Colors: Black, Silver, Tan
Warranty: Limited Lifetime
MSRP: $220-$225
Actual Pricing: ~$160
Pricing & Contents
MSRP for the EB1 Backup is $220-$225, and the light is available in three colors (black, silver, or tan) with two tailcap options (tactical and click-type with shroud). Both black and silver have smooth finishes, whereas the tan version has a slightly rough finish that is less slippery.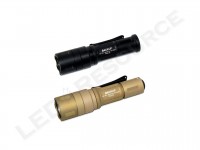 Included in the box are: SureFire EB1 Backup, 1 x SF123A lithium battery (installed), and user manual.
Batteries
Powered by a single lithium 123A battery, the EB1 is primarily designed for use with primary lithium 123A's. The EB1 can also operate using 3.2V rechargeable lithium-phosphate LFP123A batteries, as long as they are not fresh off the charger.
Fully charged LFP123A's will only function on low mode, but once the voltage has dropped (either from resting, or by operating the EB1 on low mode), the EB1 functions normally. Keeping this fact in mind, we would suggest using two LFP123A's in a rotation, as this will prevent fully charged cells from being used immediately.
The Light
With a 4.4" to 4.5" length, depending on tailcap option, the EB1 is about 0.5" longer than the original E1B Backup. Although not quite as compact as its precursor, the EB1's increased length means that the palm of your hand is less likely to accidentally block the bezel. The aluminum body is type-III anodized for protection against scratches and corrosion.
Head
Behind the crenelated bezel is an anti-reflective coated glass window that protects the Total Internal Reflection (TIR) optic. The EB1 has a dual-spring design, unlike previous E-Series lights, and springs on both the head and tail contacts ensure maximum reliability.
Body
As a pocket-friendly light, the EB1's styling lacks aggressive design elements such as knurling. The two-way pocket clip, which also stops the light from rolling on a flat surface, allows bezel-up or bezel-down carry.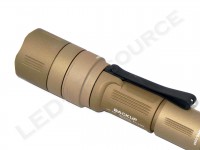 Tail Cap
Switching type is determined by the tailcap, as the rest of the light is identical for all models. The tactical model, which is shown below, has a slightly longer spring than the click-type model.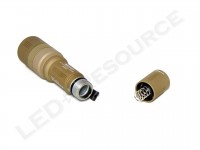 The click-type switch is available with or without a shroud that prevents accidental activation. With the shrouded switch, the EB1 can tail-stand on a flat surface, but will wobble because the rubber switch cover protrudes just beyond the shroud.
To activate the lockout tailcap feature, unscrew the tail cap until the light no longer turns on (about a quarter-turn).
Modes
Two output levels can be activated using the tail switch.
Low (5 lumens)
On the tactical model, reduced output mode is activated by a half-press for momentary, or a quarter-twist for constant-on. For the click-type model, two presses or clicks will activate low output.
High (200 lumens)
On the tactical model, maximum output is activated by a full-press for momentary, or almost a full-twist for constant-on. For the click-type model, a single press or click will activate maximum output.
One unique feature of the tactical model is that from constant-on low output, momentary maximum output can be activated by fully pressing the tailcap. This is similar to SureFire's MaxBlast feature that always allows immediate access to maximum output, except that the EB1 returns to low output after the tailcap is released (since the tailcap had been tightened).
Performance
Using a Cree XP-E LED, the EB1 has a maximum output of 200 lumens and 10,000 candela. The TIR optic in the EB1 is slightly larger than previous E-Series lights such as the E1B, which means that most filters and diffusers will not fit the EB1.
Beam pattern is focused and clean, similar to previous E-Series lights. The EB1's optic has a slight texture that reduces irregularities in the spill beam.
Runtime
If you haven't read our article about runtime graphs and the ANSI FL1 Standard, please click here.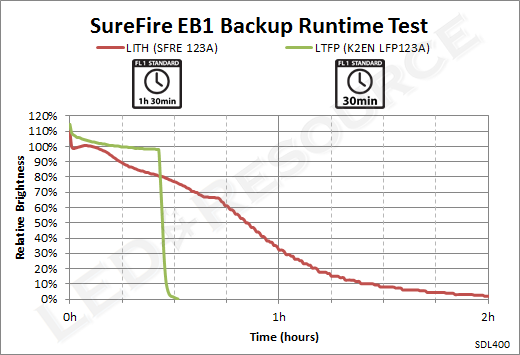 SureFire uses tactical and total runtime, which are not necessarily consistent with ANSI FL-1 Standard specifications. For the EB1, maximum output runtime is given as tactical runtime (measured until output drops below 50 lumens), and lower output runtimes are given as total runtime until battery exhaustion.
Due to the EB1's high current draw from its single battery, primary 123A's are unable to maintain consistent voltage during continuous operation, and output decreases to 60% during the first 45 minutes of our runtime test. However, as its name implies, the EB1 Backup is not designed to be a primary light, and comparable output to a primary light comes with the tradeoff of runtime.
Conclusion
With a TIR optic that produces an optimized beam pattern, the SureFire EB1 Backup offers impressive performance for its small size. Two output levels provide a choice between maximum output and extended runtime, which last for up to 40 hours. The EB1 is available with two switch types: the tactical switch allows direct access to momentary low or high output, whereas the click-type switch allows direct access to high output in both momentary and constant-on mode. In other words, the least convenient mode to activate on the tactical model, constant-on maximum output, is easily activated on the click-type switch.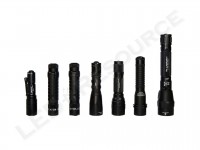 Although the EB1 was designed as a backup light for law enforcement officers, the EB1 is suitable for a variety of uses. If you're an outdoor enthusiast, the tactical model turns on in low output first, preserving night-adapted vision. Whether you are a police officer or not, the SureFire EB1 Backup is a great choice if you are looking for a compact, yet high-output, everyday carry light.
---
Pros
Cons

Maximum output of 200 lumens
Dual-output, high and low modes
Multiple tailcap switching options
TIR optic with smooth beam pattern
Two-way pocket clip
Compact size
Lifetime warranty

Cannot use fully charged LFP123A's
Expensive
---
Related Links