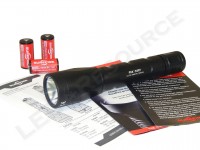 SureFire's Fury family welcomes yet another a new member – the dual-output P3X Fury, which is a three-cell light with a maximum output of 1,000 lumens. The P3X Fury balances an incredible amount of output with extended runtime and provides nearly two hours of regulated ultra-high output when used with three primary 123A lithium cells. Compared to two-cell 123A lights, the three-cell design of the P3X offers a solution for users that demand both higher output and longer runtime.
Key Specifications
Output: 1,000 lumens high, 15 lumens low
Intensity: 22,000 candela
Runtime: 2h 30min high, 60h low
Battery: 3 x 123A
Length: 6.8″
Diameter: 1.4″ bezel, 1.0″ body
Weight with Batteries: 7.2 oz.
Warranty: Limited Lifetime
MSRP: $250
Actual Pricing: ~$175
Pricing & Contents
MSRP for the P3X Fury is $250 and the light is only available in black.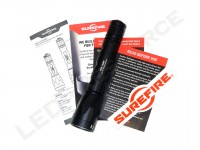 We received our P3X in pre-production packaging, but the retail blister packaging includes: SureFire P3X Fury, 3 x SF123A lithium battery (installed), SureFire sticker, and user manual.
Batteries
The P3X is powered by three lithium 123A batteries and fully compatible with 3.2V rechargeable lithium-phosphate batteries, such as the K2 Energy LFP123A that SureFire offers as an alternative to expensive primary batteries.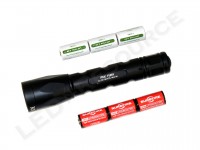 Lithium batteries have higher energy density than regular batteries, so low-quality or counterfeit batteries can be dangerous to use. SureFire recommends using only quality lithium batteries from Duracell, Energizer, Panasonic, or SureFire.
The Light
The P3X has a length of 6.8", which is close to the length of a typical 2AA flashlight. The aluminum body is type-III anodized for protection against scratches and corrosion.
Head
The head features an anti-reflective coated glass window and a textured reflector. Flat areas on the head stop the light from rolling away when set on a flat surface, and the P3X has a dual-spring design for increased reliability.
Body
Instead of knurling, the P3X has finger notches spaced out on the body.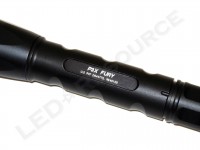 Tail Cap
On the tail cap is a forward click switch, which is covered with textured rubber.
To activate the lockout tailcap feature, unscrew the tail cap until the light no longer turns on (about a quarter-turn).
Modes
Two output levels can be activated using the tail switch.
Low (15 lumens)
A single press or click will activate low output.
High (1,000 lumens)
Two presses or clicks will activate maximum output.
Performance
Using a Cree XM-L LED, the P3X has a maximum output of 1,000 lumens and 22,000 candela. Beam pattern is clean with a large hotspot, and identical to that of the P2X.
Runtime
If you haven't read our article about runtime graphs and the ANSI FL1 Standard, please click here.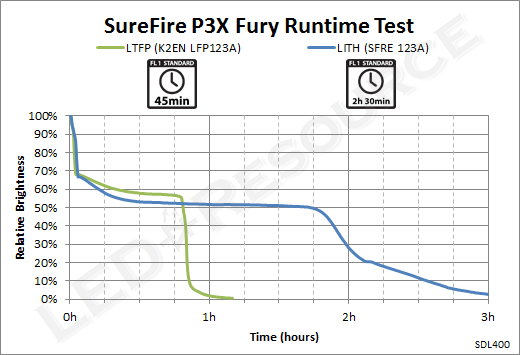 SureFire uses tactical and total runtime, which are not necessarily consistent with ANSI FL-1 Standard specifications. For the P3X, maximum output runtime is given as tactical runtime (measured until output drops below 50 lumens), and lower output runtimes are given as total runtime until battery exhaustion.
During the first three minutes of operation, the P3X uses step-down regulation to reduce output to 70% and settles at 50% after 30 minutes. Output is regulated at 500 lumens for 1h 45min, crossing the 10% mark at 2h 30min. Compared to the P2X Fury, the P3X has an extra hour of output at 500 lumens.
Conclusion
There almost certainly will be discussion about the "50% step-down" during the P3X's runtime, so before we conclude, we would like to reiterate that the output reduction is not as perceivable as implied by the numbers. Beyond ultra-high output (typically 500+ lumens) is approaches a region of diminished returns due to the non-linear perception of brightness. It's hard for us to tell the difference between extremely bright and exceedingly bright in typical usage scenarios, and we suspect that you also won't be able to either.
The SureFire P3X is a higher output version of existing two-cell Fury models, but using an extra cell makes a significant difference in doubling the regulated runtime compared to the P2X Fury. The odd number of cells could make the P3X impractical to use with rechargeable lithium-phosphate LFP123A's (having two chargers would make this easier), although runtime is still acceptable with this economical alternative. When size is not of utmost concern, the larger P3X is an ideal choice for the discerning user looking for practical performance.
---
Pros
Cons

Maximum output of 1,000 lumens
Dual-output, low and high modes
Multiple tailcap switching options
Extended regulated runtime
Smooth beam pattern
Lifetime warranty

Non-tactical UI with low mode first
Not quite as expensive as other SureFire models, but still expensive
---
Related Links
SureFire P3X Fury Product Page
SureFire LFP123A Charger Kit Product Page