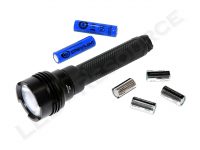 It wasn't that long ago when 500 lumens was considered a lot of output for LED flashlights, and now ultra-high output lights are capable of producing well over 1,000 lumens. The Streamlight ProTac HL 4 has a maximum output of 2,200 lumens and supports Streamlight's TEN-TAP Programming, which allows the user to choose between three function sets. The ProTac HL 4 is also dual-fuel capable, operating on either four lithium primary 123A or two 18650 rechargeable lithium-ion batteries. With a competitive price point, as well as flexibility and economical operation, the Streamlight ProTac HL 4 is shaping up to be a great choice for users needing more output.
Key Specifications
Output: 2,200 lumens high, 600 lumens medium, 60 lumens low
Intensity: 30,000 candela
Runtime (Lithium-Ion): 1h 45min high, 4h 15min medium, 43h low
Runtime (123A): 1h 30min high, 4h medium, 40h low
Battery: 2 x 18650 Lithium-Ion or 4 x 123A
Length: 8.6″
Diameter: 2.4″ bezel, 1.2″ body
Weight with Batteries (Lithium-Ion): 1 lb. 2 oz.
Weight with Batteries (123A): 1 lb. 1 oz.
Colors: Black
Warranty: Limited Lifetime
MSRP: $175
Actual Pricing: ~$100
Pricing & Contents
MSRP for the ProTac HL 4 is $175, and the light is only available in black. Included in the blister packaging (item # 88060) are: Streamlight ProTac HL 4, 4 x 123A lithium batteries, wrist lanyard, and user manual.
Batteries
The dual-fuel capable ProTac HL 4 uses either 4 x 123A lithium primaries or 2 x 18650 lithium-ion rechargeable batteries.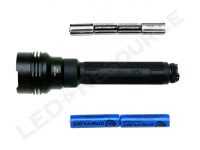 Streamlight's OEM 18650 lithium-ion rechargeable kit is available in either USB (item # 22010) or 120V (item # 22011). We tested the USB kit, which comes with the charging cradle, 2 x 18650 lithium-ion batteries, USB cable, and user manual.
The micro USB port on the charger is shrouded to work with Streamlight's locking micro USB cables and prevent accidental disconnection. In addition to the micro USB input, the battery charger can also be used with 12V Streamlight DC power cords such as those for the Stinger or Strion. Charge time is 3.5 hours for one battery or 6.5 hours for two batteries and may be longer when using a current-limited USB source. When two batteries are inserted, the left bank will be charged first. The 2,600mAh lithium-ion batteries are rated for up to 500 cycles.
Lithium batteries have higher energy density than regular batteries, so low-quality or counterfeit batteries can be dangerous to use. Streamlight recommends using only quality lithium batteries from Duracell, Energizer, Panasonic, or Streamlight. Additionally, lithium primary 123A's should never be used with lithium-ion 18650s in any combination.
The Light
The ProTac HL 4 is has a length of 8.6", putting it in the mid-sized category along with familiar rechargeable lights such as the Stinger DS LED. The aluminum body is type-II anodized and has a waterproof IPX7 rating.
Head
The head features a crenelated bezel with an anti-reflective coated glass window and a TIR optic. Three flat areas on the heatsink help stop the light from rolling away on a smooth surface.
Body
A rubber sleeve on the body of the ProTac HL 4 acts as a thermal insulator (due to the high output of the light, the entire light gets warm fairly quickly when operating in high mode) and also provides grip.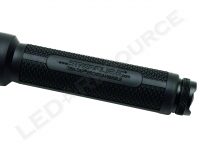 Tail Cap
Textured black rubber covers the forward click switch, which is shrouded to prevent accidental activation and also allows the light to tail stand. The tailcap can also be unscrewed a quarter turn to disable the light, which is recommend when transporting the light due to the amount of heat that can be produced if it is accidentally turned on.
Function Sets
Streamlight's TEN-TAP Programming allows you to choose between three different function sets, making the ProTac HL 4 suitable for both practical and tactical use. To change the function set, simply tap the switch nine times, each time within 0.4 seconds, and hold the switch on the tenth time until the light turns off.
High/Strobe/Low (Default)
Press once for high, press twice for strobe, and press three times for low.
High Only
Keeping things simple, this single-output function set is ideal for tactical use.
Low/Medium/High
Press once for low, press twice for medium, or press three times for high.
Modes
Up to three modes are available, depending on which function set is activated.
High
Maximum output of 2,200 lumens.
Strobe
With two clicks in the High/Strobe/Low function set, the 100% strobe mode is activated.
Medium
With two clicks in the Low/Medium/High function set, medium output of 600 lumens is activated.
Low
Reduced power output of 60 lumens. In the High/Strobe/Low function set, the light will briefly strobe before low can be activated.
Performance
Using a Cree XHP50 multi-die LED, the ProTac HL 4 achieves a much higher output compared to single-die LEDs such as the XM-L2. The larger area of the multi-die LED results in a considerably wider hotspot, which easily lights up large areas but won't have the range for distant objects. Even though the XHP50 LED has gaps between the individual dies, the TIR optic in the ProTac HL 4 produces a clean beam pattern that is far superior to a similarly sized reflector and has no visible shadows, dark spots, or edges.
Runtime
If you haven't read our article about runtime graphs and the ANSI FL1 Standard, please click here.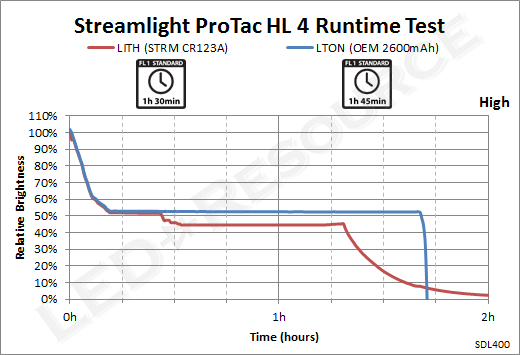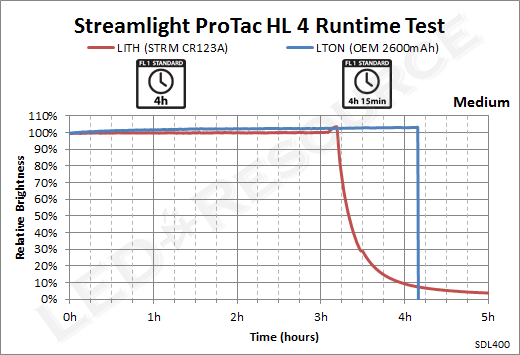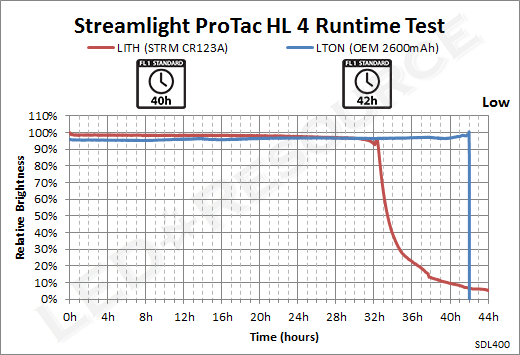 Streamlight uses step-down regulation for high output mode to maintain a reasonable temperature and prevent overheating, but medium and low output modes are well regulated. Although ANSI FL-1 Standard runtime is similar for both 123A lithium and 18650 rechargeable lithium-ion, the behavior during the last 20% of the runtime can be easily seen. Using 123A lithium batteries has a slight tactical advantage, even with the reduced runtime though, as the output slowly decreases and gives the user a chance to switch to a lower output mode or replace the batteries.
Conclusion
2,200 lumens is a lot of light. Running the ProTac HL 4 on maximum output does produce a lot of heat, but the rubber grip insulates the body well and makes sure that it doesn't get uncomfortable to hold. In addition to being able to put out an incredible amount of light, the ProTac HL 4 is also among an increasing number of dual-fuel lights that accept both lithium primary and rechargeable batteries. Using 18650 lithium-ion rechargeable batteries helps keep costs down, as the light goes through batteries rather quickly, while having a set of spare lithium 123A batteries minimizes downtime. Switching between different types of batteries is easy because instead of using a battery carrier, the ProTac HL 4 uses tabs on the body of the light keep the narrower 123A batteries from rattling. The Streamlight ProTac HL 4 not only offers a noticeable performance increase compared to many of today's high-output lights in the 500 to 1,000 lumens range, but comes at an affordable price point and has the choice of programmable function sets to meet a wide variety of needs.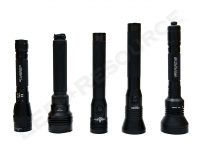 ---
Pros

Maximum output of 2,200 lumens
High, medium, low, and strobe modes
User-programmable function sets
Dual Fuel capable (2 x 18650 or 4 x 123A)
Smooth beam pattern
Lifetime warranty

Neutral

Removing batteries requires shaking them out

Cons

Cannot use medium as first output level, only low or high
---
Related Links
Streamlight ProTac HL 4 Product Page
Streamlight ProTac HL 4 Fact Sheet
Streamlight ProTac HL 4 Info Sheet
Streamlight ProTac HL 4 Data Sheet
Streamlight 18650 Charger Kit Product Page
Streamlight 18650 Charger Kit Fact Sheet
Streamlight 18650 Charger Kit Info Sheet