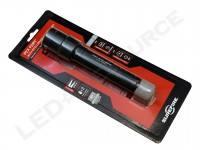 High-output lights such as the SureFire P2X Fury are great for outdoor use, but using that amount of output indoors can be challenging due to reflections and backscatter from walls or other light-colored surfaces. SureFire's IntelliBeam Technology is designed to address this issue by automatically adjusting the light's output based on your surroundings, and you may be wondering how it works or even how well it works. We'll be taking a detailed look at SureFire's first automatically-adjusting flashlight, the P2X Fury with IntelliBeam Technology (P2XIB), which has two modes: IntelliBeam variable output from 15 to 600 lumens and maximum output of 600 lumens.
Key Specifications
Output: 600 lumens high, 15 lumens low
Intensity: 14,700 candela
Runtime: 1h 30min high, 45h low
Battery: 2 x 123A
Length: 5.8″
Diameter: 1.4″ bezel, 1.0″ body
Weight with Batteries: 6.5 oz.
Colors: Black
Warranty: Limited Lifetime
MSRP: $229
Actual Pricing: ~$180
Pricing & Contents
MSRP for the P2XIB is $229, and the light is only available in black. Included in the blister packaging are: SureFire P2X Fury with IntelliBeam, 2 x 123A lithium batteries (installed), and user manual.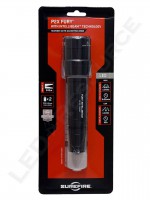 Batteries
Like the original Fury, the P2XIB is powered by two lithium 123A batteries and can also be used with 3.2V rechargeable lithium-phosphate batteries.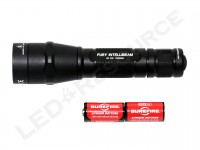 Lithium batteries have higher energy density than regular batteries, so low-quality or counterfeit batteries can be dangerous to use. SureFire recommends using only quality lithium batteries from Duracell, Energizer, Panasonic, or SureFire.
The Light
With its length of 5.8", the P2XIB is close to half an inch longer than the P2X due to the additional components in the head for IntelliBeam. The aluminum body is type-III anodized for protection against scratches and corrosion.
Head
The head features an anti-reflective coated glass window and a textured reflector. Towards the edge of the reflector is cutout for the IntelliBeam sensor.
Ridges on the head stop the light from rolling away when set on a flat surface, which works more effectively than the flat areas on the P2X Fury.
Body
The P2XIB also sees the return of knurling, an improvement over the contoured body of the Fury series that can be slippery to hold.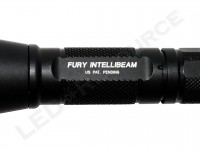 Tail Cap
On the tail cap are multiple bands of knurling and a forward click switch, which is covered with textured rubber.
To activate the lockout tailcap feature, unscrew the tail cap until the light no longer turns on (about a quarter-turn).
Modes
Two output levels can be activated using the tail switch on the P2XIB.
IntelliBeam (15 to 600 lumens)
A single press or click will activate IntelliBeam mode for variable output.
High (600 lumens)
Two presses or clicks will activate maximum output.
Performance
Using a Cree XM-L2 LED, the P2XIB produces a respectable 600 lumens of maximum output and an intensity of 14,700 candela. The beam pattern is smooth and clean like the P2X, except for a slightly darker spot at the edge where the IntelliBeam sensor is.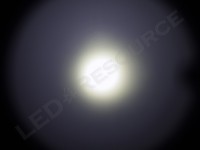 IntelliBeam Technology works by using a light sensor to detect the amount of light being reflected back at the light. If the amount being reflected back is not enough (for example, when an object is distant), IntelliBeam will increase the output, and when too much light is being reflected back (for example, when an object is close), IntelliBeam will decrease output. To avoid blinding the user, the light always starts in lowest output and then ramps up to the appropriate brightness quickly.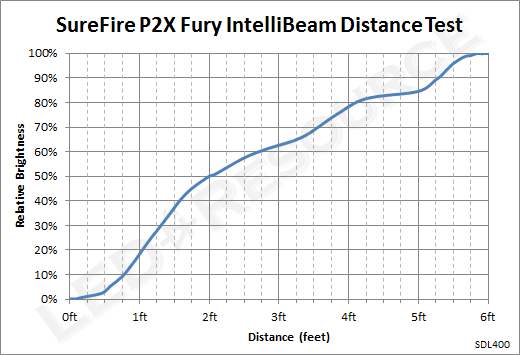 Runtime
If you haven't read our article about runtime graphs and the ANSI FL1 Standard, please click here.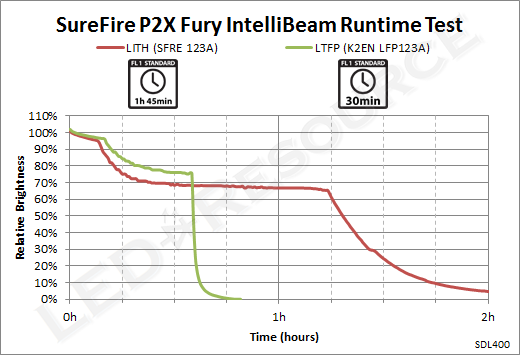 SureFire uses step-down regulation on the P2XIB to achieve a longer and more consistent runtime than the original Fury (500 lumens, released in 2012). After the first 15 minutes, the P2XIB maintains roughly 70% output until it drops out of regulation.
Conclusion
IntelliBeam Technology is an innovative solution to make high-output lights easier to use, but like many forms of automation, there are some limitations. The black plastic tube in front of the IntelliBeam sensor eliminates most interference, but bright sources of light aimed directly at the sensor will cause IntelliBeam to dim unexpectedly. This could be indoor lighting or an exposed bulb, or in a tactical situation, someone pointing a flashlight at you. In both of these situations, the output reduction would probably not make a difference in your ability to see, but the tactical disadvantage is a serious consideration for duty carry.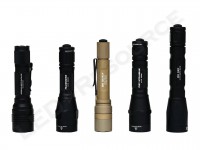 In everyday use, IntelliBeam is surprisingly convenient for tasks such as searching for an item in a dark attic. From searching for a box on the other side of the attic using 600 lumens to digging inside the box with 15 lumens, the automatically adjusting output of the SureFire P2X Fury with IntelliBeam Technology saves you time and effort. IntelliBeam also reduces the chance of blinding yourself with too much output, a problem that is becoming increasingly common with the ever-increasing lumen output of LED flashlights. Without complicating the user interface with additional output levels, the SureFire P2X Fury with IntelliBeam Technology takes the guesswork out of selecting an appropriate output level. Flashlights have officially entered the era of smart technology.
---
Pros

Maximum output of 600 lumens
IntelliBeam variable-output mode
Knurling on the body and tail cap
Smooth beam pattern
Lifetime warranty

Neutral
Cons

IntelliBeam can be confused by bright lights
---
Related Links