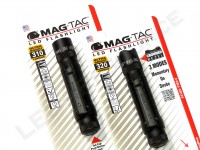 Designed in collaboration with the U.S. Military, the Maglite MAG-TAC LED flashlight is a new rugged tactical flashlight from Mag Instrument. This performance-oriented derivative of the XL-series is the first Maglite to use high performance lithium 123A batteries, resulting in a compact flashlight that produces more than 300 lumens and lasts four hours on one set of batteries. Let's take a closer look at Maglite's first lithium 123A tactical flashlight and see how it stacks up against the competition.
Key Specifications
Output: 310 lumens high (plain bezel), 320 lumens high (crowned bezel), 45 lumens low (plain bezel only)
Intensity: 8,300 candela (plain bezel), 9,300 candela (crowned bezel)
Runtime: 4h high, 17h low (plain bezel only)
Battery: 2 x 123A
Length: 5.2″ (plain bezel), 5.3″ (crowned bezel)
Diameter: 1.05″
Weight with Batteries: 4.8 oz.
Warranty: Limited Lifetime with $10 Handling Fee
MSRP: $64.99-$74.99 (plain bezel), $79.99-$84.99 (crowned bezel)
Actual Pricing: ~$80
Pricing & Contents
MSRP for the MAG-TAC ranges from $64.99 to $74.99 for the plain bezel model, and $79.99 to $84.99 for the crowned bezel model. Both models are available in several colors, including Black, Coyote Tan, Foliage Green, and Urban Gray.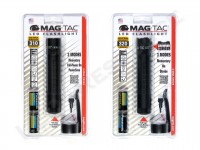 Included in the blister packaging are: Maglite MAG-TAC, 2 x 123A lithium batteries, pocket clip, hex wrench, and user manual.
Batteries
In a departure from the alkaline batteries that Maglite typically uses, two 123A lithium batteries power the MAG-TAC. These 3V lithium batteries, which are commonly used in tactical flashlights, have twice the voltage of alkaline batteries and provide better high-drain performance.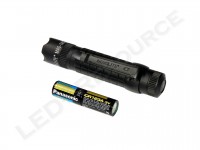 Lithium batteries have higher energy density than regular batteries, so low-quality or counterfeit batteries can be dangerous to use. We recommend using only quality lithium batteries from Duracell, Energizer, and Panasonic.
The Light
As a variant of the XL-series, the MAG-TAC has similar dimensions to the XL200. Overall length is slightly longer to accommodate the 123A batteries, and for maximum durability, the aluminum body is type-III anodized with a matte finish.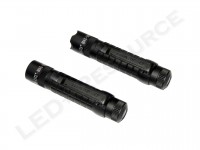 Head
Behind the bezel is a polycarbonate window and smooth plastic reflector.
Here we can see the difference between the plain and crowned bezels; the crowned bezel protrudes by an additional 0.1" and is slightly tapered.
Body
Styling of the MAG-TAC is more aggressive than the XL-series, and the grenade-grip knurling along the body is smooth and easy to grip.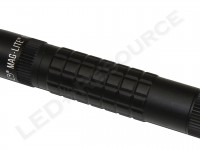 Tail Cap
Smooth black rubber covers the electronic tail switch, which is flat and shrouded to prevent accidental activation.
Function Sets
In addition to cosmetic differences, the plain and crowned models also have different function sets.
Momentary/High/Low (Plain Bezel)
Click once for momentary-on, click twice for constant-on, and click three times for low.
Momentary/High/Strobe (Crowned Bezel)
Click once for momentary-on, click twice for constant-on, and click three times for strobe.
Modes
Both models use the Quick Click user interface to select from three modes.
Momentary
Press and hold the switch for maximum output. When the switch is released, the light turns off.
High
With two clicks, maximum output of 310 lumens (plain) or 320 lumens (crowned) is activated.
Low
With three clicks for the plain bezel version, reduced power output of 45 lumens is activated.
Strobe
With three clicks for the crowned bezel version, the 12Hz strobe is activated.
To turn off the MAG-TAC, click the switch once.
Performance
Using a Cree XP-G LED, the MAG-TAC has a maximum output of 320 lumens. The MAG-TAC uses the same LED and reflector as the XL200, resulting in a similar beam profile that is smooth and focused with a well-defined hotspot.
Runtime
If you haven't read our article about runtime graphs and the ANSI FL1 Standard, please click here.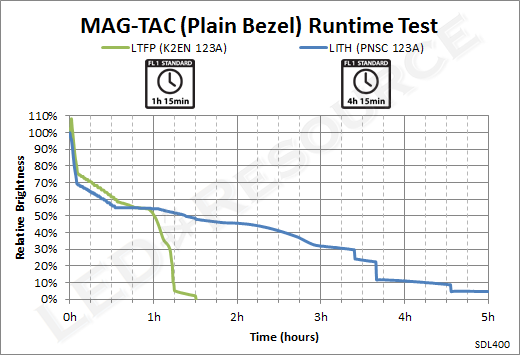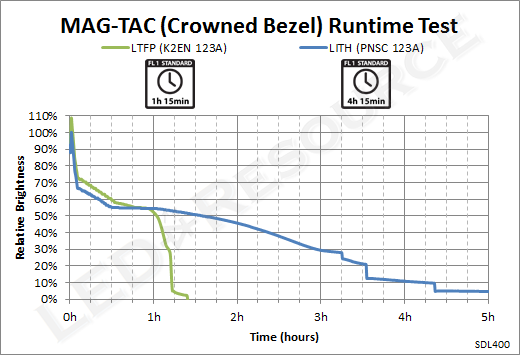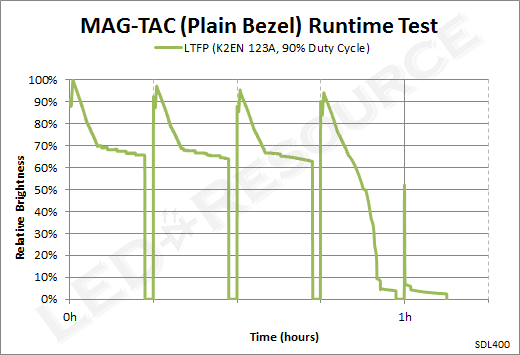 Both models use gradual step-down regulation over the first half hour of runtime, reducing heat and extending battery life. Rechargeable lithium-iron phosphate 123A's can also be used, which provide approximately one hour of regulated runtime.
Accessories
Included with the MAG-TAC is a pocket clip, which is secured using a plastic cam lock.
Conclusion
Although many lights now offer user-programmable function sets, including Maglite's ML-series, this feature was not carried over to the MAG-TAC. Instead, the MAG-TAC's bezel style determines which pre-programmed function set you'll get. For most users, having a lower output mode would be more practical than strobe, so we would recommend the plain bezel model unless there is a specific need for either the crowned bezel or strobe mode.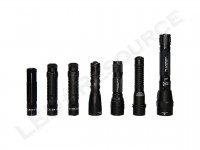 In the highly competitive tactical flashlight segment, the Maglite MAG-TAC stands well among the competition. As LED technology advances, it's easy to get caught up in the numbers, but there's more to a flashlight than just output. While the MAG-TAC may not have as much output as the latest ultra-high output lights with Cree's XM-L LED, the Cree XP-G LED allows the MAG-TAC to have a more compact design with a 1" bezel.
---
Pros
Cons

Maximum output of 320 lumens
Multi-mode operation
Plain or crowned bezel
Removable pocket clip
Smooth beam pattern
Lifetime warranty

No user-programmable function sets
Requires two clicks for constant-on
---
Related Links
Maglite MAG-TAC (Plain Bezel) Product Page