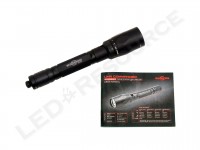 Expanding on SureFire's line of rechargeable LED flashlights, the Surefire UNR Commander is a variable output LED flashlight that is also the first to feature SureFire's exclusive 4-Function Tailcap Switch with MaxBlast. This new multi-function tail switch allows both momentary and constant-on operation, and MaxBlast provides instant access to maximum output. Maximum output of the UNR Commander is 800 lumens, with lower output modes and strobe available using the six-position selector ring.
Key Specifications
Output (Li-Ion): 800 lumens max, 500 lumens med. high, 140 lumens med. low, 30 lumens min
Output (123A): 450 lumens max, 450 lumens med. high, 130 lumens med. low, 30 lumens min
Intensity: 20,000 candela
Runtime (Li-Ion): 2h 15min max, 2h 30min med. high, 6h 15min med. low, 23h min
Runtime (123A): 1h 15min max, 1h 30min med. high, 5h 15min med. low, 15h 30min min
Battery: Lithium-Ion Rechargeable Battery or 2 x 123A
Length: 9.4″
Diameter: 1.6″ bezel, 1.1″ body
Weight with Batteries: 12.0 oz.
Warranty: Limited Lifetime
MSRP: $595
Actual Pricing: ~$450
Pricing & Contents
MSRP for the UNR Commander is $595, and the light is only available in black.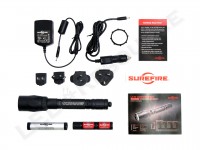 We received our UNR Commander in pre-production packaging, but production models will come in a cardboard box with similar contents, including: SureFire UNR Commander, Lithium-Ion rechargeable battery pack, "Dual Fuel" battery carrier with 2 x SF123A batteries installed, AC adapter with international adapters, 12V car charger, rubber anti-roll ring, and user manual.
Batteries
Powered by a proprietary lithium-ion battery pack, the UNR Commander is "Dual Fuel" capable and can also use a battery cartridge with 2 x 123A lithium primaries (rechargeable lithium-phosphate batteries are not supported).
The UNR uses the same battery pack as the R1 Lawman, which has a Panasonic Nickel-Oxide New Platform (NNP) based 2900mAh lithium-ion battery that is rated for 500 full discharge cycles with a 20% loss in capacity (up to 2000 cycles with partial discharge cycles).
To charge the light, connect the AC adapter to the charge port on the light. When the Fuel Gauge LED turns green, the battery is charged to 90% capacity. Typical charge time until 90% is two hours, and it will take an additional two hours to reach 100% capacity. For maximum battery longevity, as mentioned above with the cycle count, you may want to consider only charging the battery to 90%.
The Light
With a length of 9.4" long, the UNR is just a bit larger than the average mid-sized rechargeable light. The aluminum body is type-III anodized for maximum protection against scratches and corrosion.
Head
Behind the non-crenelated bezel is an anti-reflective coated glass window that protects the Total Internal Reflection (TIR) optic. Flat areas on the head stop the light from rolling away on a smooth surface.
Modes are activated depending on the position of the selector ring, which has detents for each mode and a raised notch to indicate the current selection.
Body
Aggressive knurling along the body of the light provides grip, and next to the water-resistant charge port is the Fuel Gauge LED, which indicates battery charge status during use and while charging. Green indicates at least 90% charge, orange indicates reduced battery charge, red indicates low battery, and blinking red indicates that it's time to charge or replace the batteries.
Tail Cap
On the tail cap is SureFire's new 4-Function switch with MaxBlast, which allows direct access to maximum output from any mode except strobe. For momentary operation, press the switch halfway for the selected output level, or all the way for maximum output. For constant-on operation, push the switch halfway to the side in any direction for constant-on in the selected output level, or all the way to the side in any direction for constant-on in maximum output.
To activate the lockout tailcap feature, unscrew the tail cap until the light no longer turns on (about a half-turn). The light can also be deactivated by setting the selector ring to Off.
Modes
Four output levels, plus strobe and off, can be activated using the selector ring.
Off
Deactivates the light and prevents accidental activation.
Minimum
4% mode for 30 lumens.
Medium Low
20% mode for 140 lumens (130 lumens with 123A's).
Medium High
60% mode for 500 lumens (450 lumens with 123A's).
Maximum
100% mode for 800 lumens (450 lumens with 123A's).
Strobe
Maximum output 800 lumen strobe (450 lumens with 123A's).
Performance
Using a Cree XM-L LED, the UNR has a maximum output of 800 lumens and 20,000 candela.
Overall performance of the UNR is fairly similar to the R1 Lawman, with the biggest difference being the TIR optic, which creates a bright, well-defined, hotspot with plenty of spill.
Runtime
If you haven't read our article about runtime graphs and the ANSI FL1 Standard, please click here.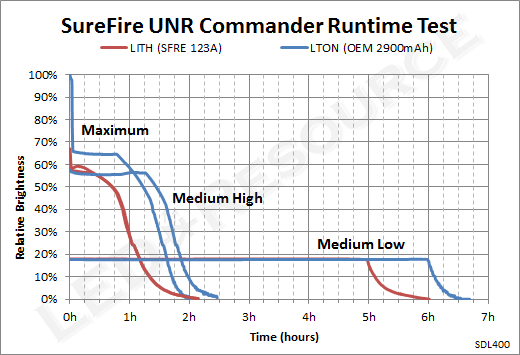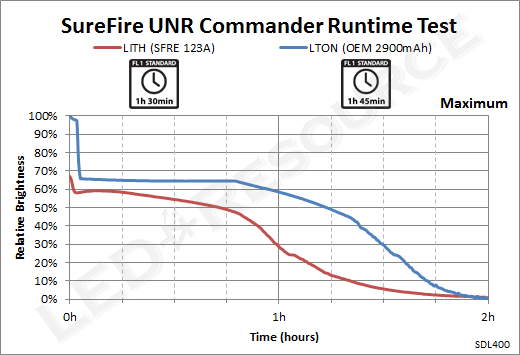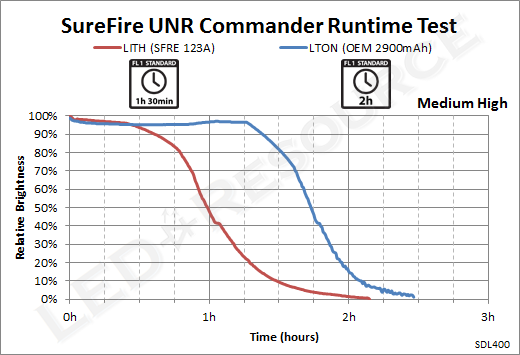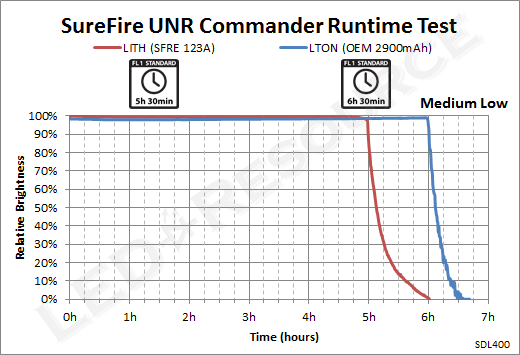 SureFire uses tactical and total runtime, which are not necessarily consistent with the ANSI FL-1 Standard specifications that we are using. For the UNR, maximum and medium high output runtime are given as tactical runtime (measured until output drops below 50 lumens), and lower output runtimes are given as total runtime until battery exhaustion.
When using the rechargeable battery, the UNR reduces output to 500 lumens after a 2-minute burst of 800 lumens. Due to non-linear brightness perception, this reduction during actual use is not as noticeable as the numbers seem to imply.
Accessories
Included with the UNR is a rubber anti-roll ring, which gives the light more stopping power when set down on a smooth surface.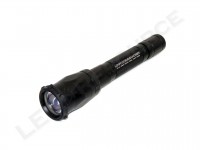 Conclusion
Carrying the UNR bezel up in an open-bottom holster makes the light prone to accidental activation, which happened to us several times during our testing period because the UNR's tail switch protrudes by more than a quarter inch. Not only can it catch on objects (such as seat cushions) and activate the light in constant-on, but it also makes the switch more susceptible to damage.If you are planning on using the UNR as a duty light, finding a suitable holster can be a challenge. The new 4-Function Tailcap Switch intuitive and easy to use, but it's just as easy to activate accidentally.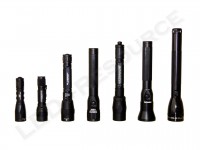 Four output levels ranging from 30 lumens to 800 lumens makes the UNR versatile, and changing modes is as simple as twisting the selector ring. Unlike many lights that use reflectors, such as the SureFire R1 Lawman, the UNR Commander's TIR optic produces a unique beam pattern with a balanced combination of flood and throw. However, the SureFire UNR Commander is no ordinary flashlight – this is one that has a MSRP of $595. While there are many good things about the SureFire UNR Commander, affordability is definitely not one of its strong points.
---
Pros
Cons

Maximum output of 800 lumens
Four output levels, strobe, and off
4-Function Switch with MaxBlast
Dual Fuel capable (Li-Ion or 2 x 123A)
Fuel Gauge battery charge indicator
TIR optic with smooth beam pattern
Lifetime warranty

Protruding tail switch
Expensive
Did we mention expensive?
---
Related Links
SureFire UNR Commander Product Page