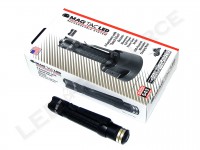 An upgraded and rechargeable version of the Maglite MAG-TAC tactical flashlight, the new Maglite MAG-TAC Rechargeable has a maximum output of 543 lumens and can be charged in the USB-powered charging base. The MAG-TAC Rechargeable uses a lithium-phosphate battery, which charges in less than three hours and has a longer service life than regular lithium-ion batteries. Available with a plain bezel or crowned bezel, both versions include four modes – momentary, full power, power save, and strobe.
Key Specifications
Output: 543 lumens high, 112 lumens low
Intensity: 8,171 candela
Runtime: 2h 30min high, 4h 15min low
Battery: Lithium-Phosphate Rechargeable Battery
Length: 5.7″ (plain bezel), 5.8″ (crowned bezel)
Diameter: 1.1″
Weight with Batteries: 5.6 oz.
Colors: Black
Warranty: Limited Lifetime with $18 Handling Fee
MSRP: $135.99
Pricing & Contents
MSRP for the MAG-TAC Rechargeable is $135.99, and the light is available with either a plain or crowned bezel. Included in the box are: Maglite MAG-TAC Rechargeable, lithium-phosphate rechargeable battery (installed), charging cradle, mounting screw, Micro USB cable, AC adapter, DC car adapter, pocket clip, pocket clip cam lock tool, battery nut tool, and user manual.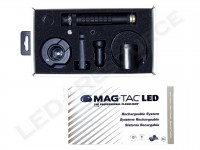 Batteries
The MAG-TAC Rechargeable uses a proprietary 3.2V lithium-phosphate battery, which is estimated to be 1,400mAh (pending confirmation). A plastic nut holds the rechargeable battery in place, which can only be removed using the included battery nut tool or another battery. As such, the MAG-TAC Rechargeable cannot be used with primary lithium batteries.
To charge the light, connect the Micro USB cable to a power source and insert the MAG-TAC Rechargeable into the charging cradle. Charging from a computer's USB port is possible, but can take longer because some USB ports are limited to 500mA.
Full charge takes up to 2.5 hours, and the LED on the cradle indicates charge state:
Blinking Red: Fault. Battery terminals are shorted or other failure.
Red: Pre-Conditioning. Battery is dead.
Orange: Fast-Charge. Battery charge is low.
Blinking Green: Top-Off. Battery charge is at least 80%.
Green: Maintenance. Battery charge is 100%.
The Light
The MAG-TAC Rechargeable has a length of 5.7" (plain bezel) to 5.8" (crowned bezel), which is 0.5" longer than the respective non-rechargeable model to accommodate the larger rechargeable battery and charging contacts. Like the MAG-TAC, the aluminum body is type-III anodized with a matte finish.
Head
Behind the bezel is a polycarbonate window and smooth plastic reflector.
Here we can see the difference between the plain and crowned bezels; the crowned bezel protrudes by an additional 0.1" and is slightly tapered.
Body
Grenade-grip knurling along the body is smooth and easy to grip.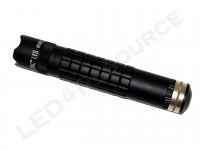 Tail Cap
The charging bands are diode-protected to prevent short-circuits, and a band of knurling provides grip for removing the tail cap. The electronic tail switch is shrouded and covered with smooth black rubber.
Modes
Four functions can be activated using the tail switch on the MAG-TAC Rechargeable.
Momentary (543 lumens)
A single press will activate momentary output until the switch is released.
Full Power (543 lumens)
Two clicks (within 0.5 seconds of each other) will activate maximum output.
Power Save (112 lumens)
Three clicks (within 0.5 seconds of each other) will activate low output.
Strobe
Four clicks (within 0.5 seconds of each other) will activate strobe.
Off
Five clicks (within 0.5 seconds of each other) will turn the light off.
Performance
Using a Cree XM-L2 LED, the MAG-TAC Rechargeable has 543 lumens of maximum output (compared to 320 lumens for the MAG-TAC). The beam pattern is smooth and clean, with a larger hotspot and brighter flood area than the MAG-TAC.
Compared to the Cree XP-G in the MAG-TAC, the Cree XM-L2 in the MAG-TAC Rechargeable has a larger surface area, resulting in a similar beam pattern. However, compared to other lights with the same LED but using larger reflectors, the MAG-TAC Rechargeable has less beam intensity and reach.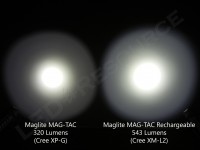 Runtime
If you haven't read our article about runtime graphs and the ANSI FL1 Standard, please click here.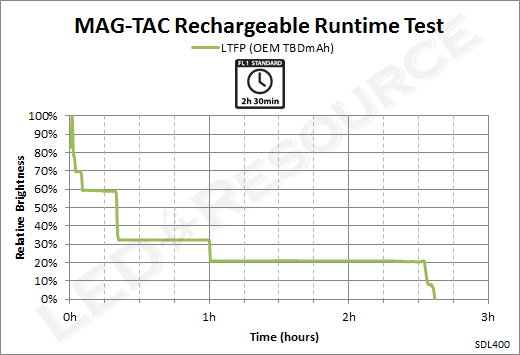 The step-down regulation used in the MAG-TAC Rechargeable aggressively reduces output to extend runtime, dropping down to only 60% output after five minutes of operation and then to 33% output after another 15 minutes. As such, the amount of time that the MAG-TAC actually produces more than 500 lumens is essentially momentary-only.
Accessories
Included with the MAG-TAC is a pocket clip, which is secured using a plastic cam lock. With the tail cap removed (for easier installation), slide the pocket clip and hand-tighten using the included cam lock tool.
Conclusion
Lithium-phosphate rechargeable is a relatively new battery technology for rechargeable flashlights, and while they are safer to operate and capable of more charge cycles than lithium-ion, they are lacking when it comes to capacity. Typically, these batteries have about half the capacity as lithium-ion, but Maglite chose an aggressive step-down regulation scheme rather than reduced runtime. Simply put, 33% output after 20 minutes of continuous operation is unacceptable for tactical use. For home or outdoor use, the Maglite MAG-TAC Rechargeable is still a great choice with USB compatibility, long battery service life, and ease of charging.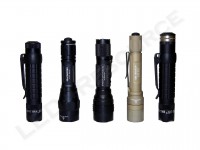 ---
Pros

Maximum output of 543 lumens
Multi-mode operation
Plain or crowned bezel
USB charging base
Optional pocket clip
Smooth beam pattern

Neutral

Lithium-phosphate battery with reduced capacity
Handling fee for lifetime warranty

Cons

Step-down regulation to 33% after 20 minutes
---
Related Links
Maglite MAG-TAC Rechargeable (Plain Bezel) Product Page