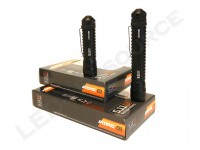 Going back to more traditional power sources, the new 5.11 ATAC line of flashlights uses either AA, AAA, or CR123 batteries. Solid build quality and user friendly attributes, such as easy to use momentary-capable tail switches, makes these lights a suitable choice for duty or everyday carry option. We'll be taking a look at the alkaline versions of these lights, starting off with the ATAC A1 and A2. Both lights have triple modes, with the difference being output and number of batteries.
Key Specifications
Output: 103 lumens (A1), 162 lumens (A2)
Runtime: 45min (A1), 1h 45min (A2)
Battery: 1 x AA (A1), 2 x AA (A2)
Length: 4.2″ (A1), 6.0″ (A2)
Diameter: 1.1″ bezel, 1.0″ body
Weight with Batteries: 3.1 oz (A1), 4.9 oz. (A2)
Warranty: Limited Lifetime
MSRP: $54.99 (A1), $64.99 (A2)
Pricing & Ordering
MSRP for the 5.11 ATAC A1 is $54.99, and the ATAC A2 is $64.99. Both lights only come in black.
In The Box
Included in the box are: ATAC A1 (or A2) flashlight, 1 x AA (or 2 x AA) alkaline battery, a Break-Away Lanyard, and user manual.
Batteries
One of the first 5.11 flashlights to use alkaline batteries, the ATAC A1 and A2 lights operate on one and two AA batteries, respectively.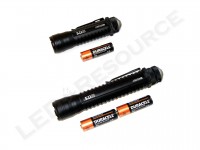 The Light
Head
The head, which cannot be removed from the body, features a plastic window and a textured orange-peel reflector.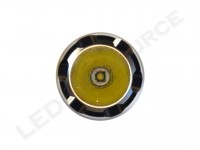 Body
The light is type-II anodized aluminum inside and out, and the forward-facing pocket clip can be removed if desired.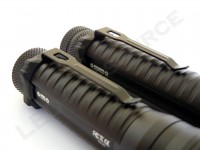 Some ribbing and patterns, as well as the pocket clip, provides grip on the body. Ribbing is also present on the inside to reduce battery rattle.
Tail Cap
On the tail cap is a forward click switch, covered with black rubber. The rubber protrudes, so the light cannot tail-stand.
Operational Modes
Like many other tactical flash, the 5.11 ATAC A1 and A2 flashlight has 3 modes.
High
A full click (or a partial press) will run the light at the maximum output of 162 lumens.
Ultra Low
A single tap and a full click (or a partial press) will activate ultra low power mode at 15 lumens.
Strobe
Double tap and a full click (or a partial press) will activate the strobe mode at maximum output.
Performance
The 5.11 ATAC A1 and A2 are ANSI rated at 103 and 162 lumens, respectively, and both use the Cree XP-E LED. The lights have smooth spill from edge to hotspot.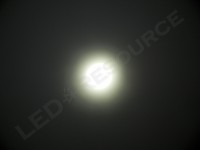 Although the hotspot is focused, the beam is more floody and better suited for closer work where a strong spot beam can be too reflecting. Overall, the beam is clean and smooth, thanks to its textured orange-peel reflector.
Runtime
If you haven't read our article about runtime graphs and the ANSI FL1 Standard, please click here.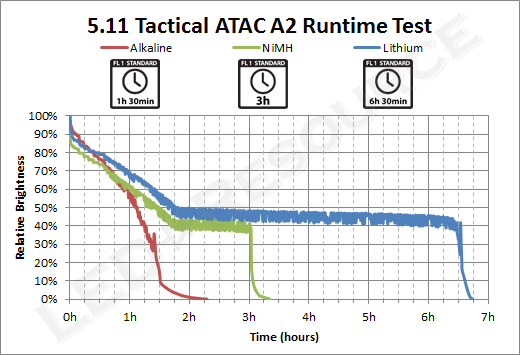 The light output drops to 50% within 2 hours and remains constant for about 5 hours before shutting off. 5.11 designed the circuit to go into an energy saving mode in order to extend the run-time. At the request of Law Enforcement professionals for a longer lasting battery life in the field, the light was designed to automatically reduce the current output gradually after exceeding the 10-15 minute threshold time.
However, this gradual reduction of energy is less pronounced to the eye because of a non-linear perception of "brightness" (click here for more information).
Accessories
Both lights come with a break-away lanyard that is designed for quick detachment when necessary (for example, if the flashlight gets caught on machinery or somebody tries to grab it). On top of that, there is a rubber ring around its tail cap designed to prevent the flashlight from rolling over.
Conclusion
5.11's ATAC A1 and A2 flashlights are suitable for everyday carry use with strong construction, compatibility with common batteries, and multiple modes for any kind of usage. At 162 lumens, the ATAC A2 would put it at one of the brightest AA flashlights we have ever tested.
Although the lights are a bit pricey compared to other AA competitors, the ATAC A1 and A2 are well built and backed by 5.11's lifetime warranty. Our only concern with the lights would be the durability of the angled bends on the pocket clip, but all in all, we are pleased by the quality and output of these flashlights.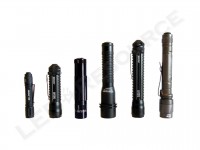 ---
Pros
Cons

High output and regulated runtime
High, low, and strobe modes
Momentary-capable tail switch
Smooth beam pattern
Pocket clip
Lifetime warranty

Pricey
Potentially brittle pocket clip
---
Related Links
5.11 Tactical ATAC A1 Product Page