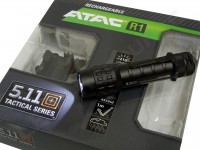 While 5.11 Tactical's capacitor-based rechargeable lights had a ground-breaking 90-second charge cycle, the PC3.300 that we reviewed had such a short runtime that practical use was limited. 5.11 has recently expanded their flashlight product line with traditional rechargeable technology, and with 216 lumens and just over three hours of runtime, the new ATAC R1 has the performance to compete with other rechargeable lights and can also use lithium primary 123A batteries if the rechargeable battery is depleted.
Key Specifications
Output: 216 lumens high, 17 lumens low
Intensity: 4,533 candela
Runtime: 3h 15min high, 67h low
Battery: Lithium-Ion Rechargeable Battery or 2 x 123A
Length: 5.9″
Diameter: 1.4″ bezel, 1.1″ body
Weight with Batteries: 6.7 oz.
Warranty: Limited Lifetime
MSRP: $140
Actual Pricing: ~$125
Pricing & Contents
MSRP for the ATAC R1 is $140, and the light is only available in black.
Included in the box are: 5.11 Tactical ATAC R1, Lithium-Ion rechargeable battery pack, 123A carrier cartridge, charging cradle, AC adapter, 12V car charger, mounting screws, break-away lanyard, and user manual.
Batteries
As with a growing number of rechargeable lights, the ATAC R1 also supports primary batteries when used with a battery cartridge. We're still trying to get details about the lithium-ion rechargeable battery from 5.11 Tactical, so once we hear back from them, we'll add capacity and other specifications here.
To charge the light, insert the barrel of the light into the cradle and push down until it locks. There aren't any guides on the cradle, so adjusting the light is usually necessary to ensure proper contact. Charging indicator brightness can be adjusted using the switch on the side of the cradle.
The Light
Head
Behind the crenelated bezel is a plastic window and textured reflector.
Body
Several ridges along the body of the ATAC R1 provide grip, and both the rubber anti-roll ring and pocket clip are removable.
Tail Cap
Textured black rubber covers the forward click switch, which is easy to press.
Modes
User interface is identical to several other 5.11 Tactical ATAC lights, consisting of high, low, and strobe. Mode switching has to be done fairly quickly, which could be good for preventing unintentional activation, but bad for frequent use of the latter modes.
High
A full click (or a partial press) will run the light at the maximum output of 162 lumens.
Low
A single tap and a full click (or a partial press) will activate the low power mode at 15 lumens.
Strobe
Double tap and a full click (or a partial press) will activate the strobe mode at maximum output.
Performance
As more flashlights are entering the range of 500+ lumens, the ATAC R1's Cree XP-G LED and modest 216 lumens aren't especially noteworthy. It's still an adequate amount of light, and the increased runtime is a plus, but the ATAC R1 does leave more lumens to be desired. Beam profile is smooth and wide, as expected.
Runtime
If you haven't read our article about runtime graphs and the ANSI FL1 Standard, please click here.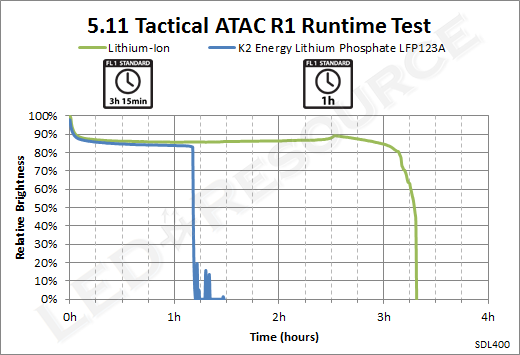 Runtime is well maintained above 80% for three hours, which suggests that 5.11 Tactical may be using Panasonic's high-capacity NNP cells. When 123A batteries are used, the ATAC R1 will flash when battery charge gets low (as seen at the end of the LFP123A runtime).
Conclusion
Between several minor (but still bothersome) issues, such as loose fitting pocket clip and anti-roll ring, manufacturing debris on the LED, and difficulty inserting the light into the cradle in one shot, it does show that flashlights isn't 5.11 Tactical's specialty (that would be tactical wear). Throughout our testing period with the 5.11 Tactical ATAC R1, we really didn't find anything that separates the ATAC R1 from the competition. It's a decent product, and it can be a good buy if you can find one priced considerably lower than MSRP, but for $140, there are many other choices out there.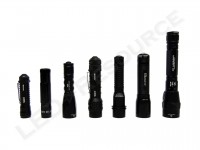 ---
Pros
Cons

High, low, and strobe modes
Rechargeable or primary batteries
Long runtime
Smooth beam pattern
Lifetime warranty

Difficult to align charging contacts
Run-of-the-mill performance
Expensive
---
Related Links
5.11 Tactical ATAC R1 Product Page