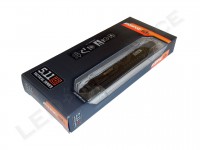 Compact, lightweight, and bright for its size, this is a very convenient lighting tool. The new 5.11 Tactical ATAC PLx flashlight is easy to carry and designed to be a great everyday carry flashlight. It's bright LED and easy to use momentary-capable tail switch is a desirable feature among compact flashlights that often use twist-on/twist-off system. This flashlight utilizes a single-mode system and run on two AAA batteries.
Key Specifications
Output: 69 lumens
Runtime: 3h
Battery: 2 x AAA
Length: 5.0″
Diameter: 0.7″ body
Weight with Batteries:2.2 oz.
Warranty: Limited Lifetime
MSRP: $29.99
Pricing & Ordering
MSRP for the 5.11 ATAC PLx flashlight is $29.99. This flashlight is only available in black.
In The Box
Included in the ATAC PLx's box are: 5.11 Tactical ATAC PLx flashlight, 2 x AAA alkaline batteries, and a user manual.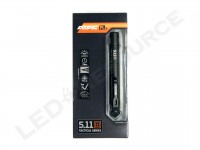 Batteries
It operates on two AAA batteries, which are to be inserted in the conventional way of positive end first.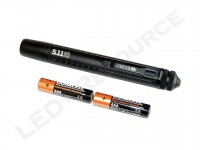 The Light
Head/Body
The head and body, which are integrated and cannot be separated, is type-II anodized aluminum and houses a polycarbonate window and a smooth reflector.
Four lines of jagged protrusions around the body and simple patterns, as well as the pocket clip, provides grip on the body, and the forward-facing pocket clip can be removed if desired.
Tail Cap
On the tail cap is a forward clicky switch, covered with black rubber. The rubber protrudes, so the light cannot tail-stand.
Operational Modes
Like many other compact flashlights, the ATAC PLx only comes with single mode.
Performance
The 5.11 ATAC PLx flashlight uses the Cree XP-C LED, which produces 69 lumens from two AAA batteries. Since this is a general purpose light, the hotspot isn't tightly focused for far distances but it does the job well for close proximity. The beam is both smooth and clean.
Runtime
If you haven't read our article about runtime graphs and the ANSI FL1 Standard, please click here.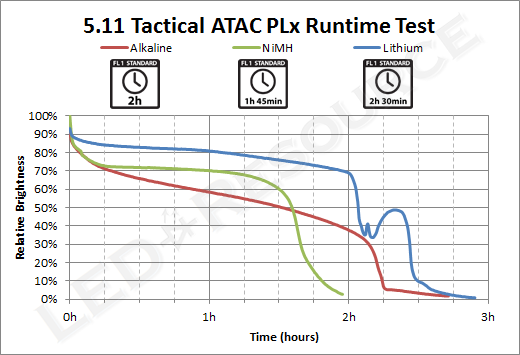 Conclusion
LED technology is rapidly improving and the 5.11 Tactical ATAC PLx flashlight is one of the brightest penlights on the market right now, yet is still small enough to fit comfortably in a shirt pocket. Although the compact AAA power source limits potential performance, we've found the PLx to be bright enough for many everyday tasks. This probably won't be a good choice for patrolling your property, but with its compact size, you are more likely to have the PLx with you when you need it. All in all, we were satisfied with the quality and output of the 5.11 ATAC PLx flashlight.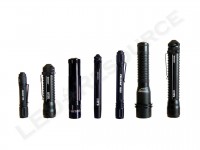 ---
Pros
Cons

Momentary-capable tail switch
Smooth beam pattern
Pocket clip
Compact size
Lifetime warranty
---
Related Links