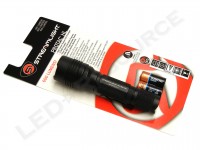 Streamlight's ProTac HL "High Lumen" Tactical Light is a programmable high-output handheld light with 600 lumens of intense white light. In addition to leading-edge performance, the ProTac HL is also the first to feature Streamlight's TEN-TAP Programming, which allows the user to customize the light by choosing between three different function sets. Powered by two 123A lithium batteries, the ProTac HL has a runtime of just over an hour on high and up to 18 hours on low mode.
Key Specifications
Output: 600 lumens high, 35 lumens low
Intensity: 16,000 candela
Runtime: 1h 15min high, 18h low
Battery: 2 x 123A
Length: 5.4″
Diameter: 1.5″ bezel, 1.0″ body
Weight with Batteries: 5.6 oz.
Warranty: Limited Lifetime
MSRP: $130
Actual Pricing: ~$75
Pricing & Contents
MSRP for the ProTac HL is $130, and the light is only available in black.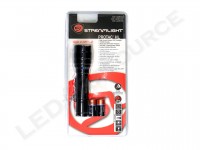 Included in the box are: Streamlight ProTac HL, 2 x 123A lithium batteries, and nylon holster.
Batteries
As with many tactical lights, the ProTac HL uses two 123A lithium batteries.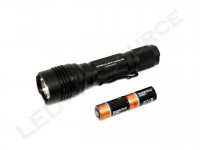 Lithium batteries have higher energy density than regular batteries, so low-quality or counterfeit batteries can be dangerous to use. Streamlight recommends using only quality lithium batteries from Duracell, Energizer, Panasonic, or Streamlight.
The Light
With its two 123A form factor and a body diameter of one inch, the ProTac HL is easy to hold and grip. For durability, the aluminum body is type-II anodized and has a matte finish.
Head
Behind the crenelated bezel is a glass window and textured aluminum reflector.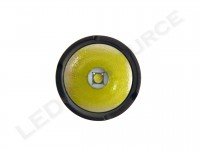 Body
Smooth knurling along the body of the ProTac HL provides grip, and the forward-facing pocket clip is removable.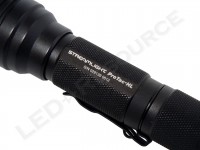 Tail Cap
Textured black rubber covers the forward click switch, which is shrouded to prevent accidental activation.
Function Sets
Streamlight's new TEN-TAP Programming allows you to choose between three different function sets, making the ProTac HL suitable for both practical and tactical use. To change the function set, simply tap the switch nine times, each time within 0.4 seconds, and hold the switch on the tenth time until the light turns off.
High/Strobe/Low (Default)
Press once for high, press twice within 0.4 seconds for strobe, and press three times within 0.4 seconds for low.
High Only
Keeping things simple, this single-output function set is ideal for tactical use.
Low/High
Press once for low, or press twice within 0.4 seconds for high.
Modes
Up to three modes are available, depending on which function set is activated.
High
Maximum output of 600 lumens.
Strobe
With two clicks in the High/Strobe/Low function set, the 100% strobe mode is activated.
Low
Reduced power output of 33 lumens. In the High/Strobe/Low function set, the light will briefly strobe before low can be activated.
Performance
Using a Cree XM-L LED, the ProTac HL has a maximum output of 600 lumens. As efficient as LEDs are, they still produce heat, and the ProTac HL does get fairly warm after several minutes of use.
Beam profile is smooth and wide, as expected with a textured reflector.
Runtime
If you haven't read our article about runtime graphs and the ANSI FL1 Standard, please click here.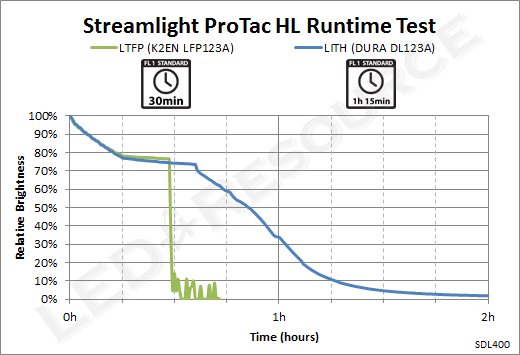 When using lithium primary batteries, runtime is regulated for just over 30 minutes, with a total runtime of 1 hour 15 minutes. Rechargeable lithium-iron phosphate 123A's can also be used, which provide approximately half the runtime of primary batteries.
Accessories
Bundled with the light is an expandable nylon holster, which is a little bit too small for the ProTac HL.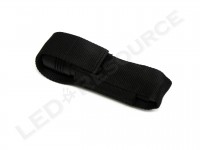 Conclusion
Programmability is slowly making its way into LED flashlights, and the ProTac HL is the first light from Streamlight to feature user-selectable function sets. Between these three function sets and an output of 600 lumens, the ProTac HL is a great choice for both tactical and non-tactical use. The ProTac HL is also priced competitively, below $80 at most retailers.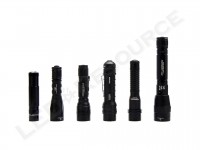 Our only complaint is with the included holster, which doesn't keep its shape or fully close, making it difficult to holster the light quickly. If you are considering the ProTac HL for duty use, you may want to invest in purchasing a more rigid holster. Otherwise, we would not hesitate to recommend the Streamlight ProTac HL if you are looking for a light with the best price-performance ratio.
---
Pros
Cons

Maximum output of 600 lumens
High, low, and strobe modes
User-programmable function sets
Smooth beam pattern
Lifetime warranty

Included holster is too small and soft
---
Related Links
Streamlight ProTac HL Product Page
Download the Streamlight ProTac HL Fact Sheet