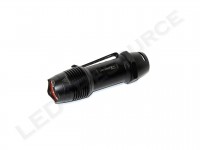 Weighing just 2.4 ounces and only 3.6 inches long, the LED Lenser F1 is a compact flashlight that uses a single lithium 123A battery. With 400 lumens of maximum output and a TIR optic, this high-output pocket-sized light is also customizable with two different bezel styles and pocket clip orientations. The F1 is designed to withstand the rigors of pocket carry with its type-III anodized aluminum and IPX8 waterproof rating, and has multi-mode operation for situations that require longer runtime or defensive strobe.
Key Specifications
Output: 400 lumens high, 60 lumens low
Intensity: 2,500 candela
Runtime: 2h high, 3h 30min low
Battery: 1 x 123A
Length: 3.6″
Diameter: 1.1″ bezel, 0.8″ body
Weight with Batteries: 2.43 oz.
Warranty: 5 years
MSRP: $80
Actual Pricing: ~$60
Pricing & Contents
MSRP for the LED Lenser F1 is $80, and the light is only available in black. Included in the box are: LED Lenser F1, 1 x Duracell 123A lithium battery, pocket clip, tactical bezel ring, cleaning cloth, spare O-ring, brush, lanyard, and user manual.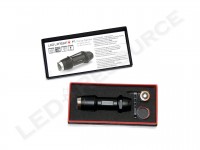 Batteries
Using a single lithium 123A battery, the F1 and its high output is very demanding on the battery. Lithium-phosphate LFP123A batteries will work in the F1, but excessive heat from increased output can damage the electronics, so LED Lenser does not recommend using lithium-phosphate batteries.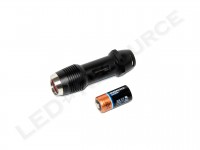 The Light
Compact and lightweight, the F1 can be easily clipped to or carried in a pocket. The F1 is type-III anodized for increased durability.
Head
The F1 uses a plastic total internal reflection optic, and the head can be removed from the body (for rear-facing pocket clip installation).
A stainless steel bezel is pre-installed on the F1, but an optional crenelated tactical bezel is included in the box. The stainless steel bezel only has two crenellations, so F1 will not stand if placed bezel-down.
Body
On the F1, the pocket clip can be installed facing forwards or backward. When the clip is installed on the tail end (facing forwards), it will have to be readjusted every time the tailcap is loosened.
Tail Cap
On the tail cap is a forward clicky switch, which is shrouded to prevent accidental activation and allow the light to tail-stand. An indentation in the shroud makes the switch easier to press, and a lanyard can also be attached to the back.
Modes
When the F1 is turned on, the output mode can be selected with half-presses of the switch.
High (400 lumens)
One press or click activates 100% output for a runtime of two hours.
Low (60 lumens)
Two presses activates 15% output for an extended runtime of over three hours.
Strobe
Three presses activates the 12Hz strobe.
Performance
Using a Cree XP-G2 LED, the F1 has a maximum output of 400 lumens and 2,500 candela. The F1's TIR optic produces a clean, focused beam with a comparably large hotspot and little side spill.
The light is rated IPX8 waterproof to 2.5m, which means that the F1 can be continuously submerged at that depth, which is 8 feet.
Runtime
If you haven't read our article about runtime graphs and the ANSI FL1 Standard, please click here.
The F1's 400-lumen maximum output is very demanding for single 123A battery, so LED Lenser uses an aggressive step-down to 10% after two minutes, and partially depleted batteries may not be able to power the F1.
Accessories
The F1 comes with a surprising amount of accessories, including a lanyard, spare O-ring, cleaning cloth, and cleaning brush.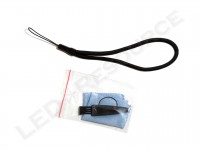 Conclusion
With a TIR optic that produces a relatively tight beam for its size, the LED Lenser F1 is remarkably small and bright. We've never thought that too much output could be a bad thing, but the F1 goes through batteries very quickly, even though it reduces to a mere 10% after just two minutes of continuous operation. Even on low mode, the runtime still isn't very long, so the F1 would not be suitable for frequent or extended use. As a backup light or for emergency situations, the LED Lenser F1's impressive output would be ideal for momentary use.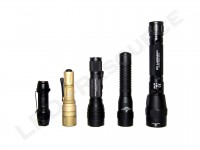 ---
Pros
Cons

Maximum output of 400 lumens
Dual-output with strobe mode
Total Internal Reflection optic
Reversible pocket clip
Compact size

Aggressive step-down regulation
Will need frequent battery changes
---
Related Links