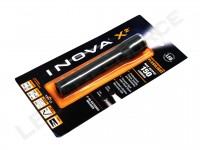 Inova's updated version of the X2 LED flashlight, which uses two standard AA size batteries, has up to 150 lumens of output and more than two hours of runtime. Compared to the previous version, the new X2 brings increased performance and multi-mode operation while keeping the same look and feel. Simple and effective, yet reliable, is the design philosophy for Inova's X-series, and we'll be taking a look at the 2AA model in this review.
Key Specifications
Output: 150 lumens high, 18 lumens low
Runtime: 1h 15min high, 60h low
Battery: 2 x AA
Length: 5.8″
Diameter: 1.1″ bezel, 0.9″ body
Weight with Batteries: 5.4 oz.
Warranty: Limited Lifetime
MSRP: $47.99
Actual Pricing: ~$35
Pricing & Contents
MSRP for the Inova X2 is $47.99, and the light is available in black or titanium (color).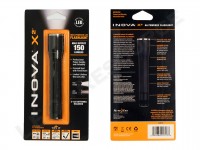 Included in the box are: Inova X2, 2 x AA alkaline batteries (installed), and user manual.
Batteries
Two AA batteries power the Inova X2, but unlike most flashlights, the batteries need to be inserted negative end first.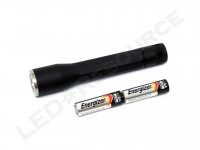 Rechargeable or lithium primary batteries can also be used for better performance.
The Light
Head
Stainless steel accents the bezel, which houses a polycarbonate window and textured aluminum reflector.
Body
Several ridges run along the body of the X2, which is type-II anodized, but this simplistic design does not provide much grip and doesn't stop the light from rolling off smooth surfaces.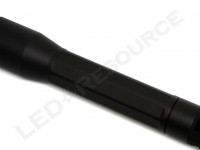 Tail Cap
Black rubber covers the rear tactical-style switch – press for momentary or twist for constant on. With a full turn of the tail cap, the X2 can be locked out to prevent accidental activation.
Modes
Multi-mode operation for high and low output modes was introduced in the updated version of the X2.
High
A single press or twist will run the light at the maximum output of 150 lumens.
Low
Two activations within two seconds will activate low power mode for 18 lumens.
Performance
Using a Cree XP-E LED, the updated Inova X2 has an output of 150 lumens. Combined with a smooth, wide beam profile, the X2 produces enough light for almost any situation.
Runtime
If you haven't read our article about runtime graphs and the ANSI FL1 Standard, please click here.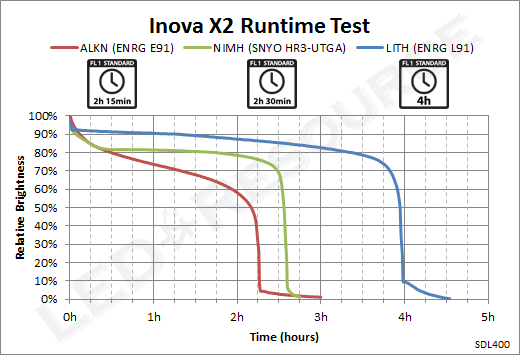 There is no step-down regulation, and a solid two hours of runtime on alkaline batteries is above average for a 2AA light.
Conclusion
With its compact size, tactical-style switch for reliable operation, and sleek design, the Inova X2 is suitable for home, work, or recreation use. This latest version of the X2 has increased output and multi-mode operation that adds a lower output mode for extended runtime. Build quality of the X2 is solid and backed by Nite Ize's lifetime warranty, which covers everything except the LED, batteries, and switch. Overall, we liked the clean and simple design of the Inova X2, making it a great multi-purpose LED flashlight.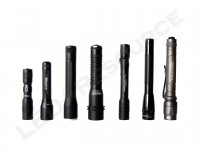 ---
Pros
Cons

High and low modes
Compact size
Solid build quality
Long runtime
Smooth beam pattern
Lifetime warranty

No anti-roll device
Slippery barrel
---
Related Links