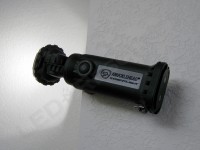 Handheld flashlights are useful in a variety of situations, but keeping your hands free while getting light where you want can sometimes be a challenge. Streamlight's new work light series is designed to help you get the job done, and the Streamlight Knucklehead features many of the same great features as the Stinger LED rechargeable flashlight including multi-mode operation, anti-scratch coated polycarbonate windows, and a variety of charging options.
Key Specifications
Output: 200 lumens high, 63 lumens low, 200 lumens flash, ~1 lumen moonlight
Runtime: 3h 30min high, 16h low, 8h flash, 20 day moonlight
Battery: NiCd Rechargeable Battery Pack or 4 x AA
Height: 9.2″
Width: 2.85″
Thickness: 2.75″
Weight with Batteries (NiCd): 23.1 oz.
Weight with Batteries (4 x AA): 18.3 oz.
Warranty: Limited Lifetime
MSRP: $120-$350
Actual Pricing: ~$80 (alkaline), $140-$180 (rechargeable)
Pricing & Ordering
Depending on charger configuration, MSRP for the Knucklehead is between $120 and $350, and the light is only available in black. Alkaline models can be found for around $80, and rechargeable configurations range from $140 to $180.
In The Box
Included in the box for a rechargeable model (item # 90607) are: Streamlight Knucklehead, NiCd rechargeable battery, alkaline battery cartridge, charging stand, 4 x mounting screws, AC adapter, cigarette lighter adapter, magnet, magnet screw, hex wrench, and user manual.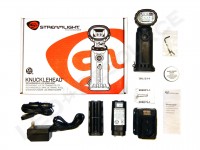 For an alkaline model, the following would be included: Streamlight Knucklehead, alkaline battery cartridge, magnet, magnet screw, hex wrench, and user manual.
Batteries
Proprietary nickel-cadmium batteries (rechargeable up to 1000 times), or 4 x AA batteries, can be used in the Knucklehead. Battery flexibility is a great plus for the Knucklehead, as the Knucklehead works well on both alkaline and NiMH rechargeable AA batteries such as the Sanyo Eneloop.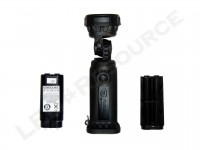 To charge the light, insert the base of the light into the charger, and push down until it locks.
Streamlight advises that the "memory effect" common to NiCd batteries is rare under normal flashlight use, so it isn't recommended to condition the battery with frequent complete discharging.
The Light
Head
The head consists of a heavy duty rubber bezel, anti-scratch coated polycarbonate plastic window, and a textured reflector. The scratch resistance comes from a silicon dioxide coating that is cured onto the plastic for a minimum pencil hardness of 3H (meaning that only a pencil with 3H hardness or higher will be able to scratch the window).
Metal contacts between the head to the body allow continuous 360° swiveling and is sealed with an O-ring.
Body
The light is made of lightweight nylon polymer, and the electronic switch is designed to be easy to press even with thick gloves and sonic welded for durability.
On the back of the light are two attachment accessories – removable magnet with 135 lb. pull strength and a retractable hook.
Base
On the base is the battery cover with charging contacts.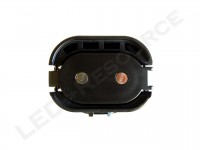 Alkaline batteries are not connected to the charging contacts, so there is no risk of accidentally charging the alkaline battery pack.
Modes
Four modes are available through a simple user interface, and pressing and holding the switch cycles through each of the modes.
Mode #1: High
A short click activates 100% mode for 200 lumens.
Mode #2: Low
When the switch is pressed for one second, the 63 lumen low mode is activated.
Mode #3: Flash
When the switch is pressed for another second, the 200 lumen flash is activated.
Mode #4: Moonlight
If the switch is pressed for another five seconds, the approximately 1 lumen moonlight mode is activated.
For all modes, a short click will turn the light off. Since the light uses electronic switches, there is a small standby current drain of 5 µA (0.005 mA), which is negligible.
Performance
The Knucklehead is rated for 200 lumens with two Luxeon Rebel ES LEDs, which produce a smooth flood beam. Due to the shape of the reflector, the beam is actually square.
The light is rated for IPX4 water-resistance, which means it can withstand splashing water from all directions, and also has safety approvals for use in hazardous environments (see Fact Sheet link at the bottom for details).
Runtime
If you haven't read our article about runtime graphs and the ANSI FL1 Standard, please click here.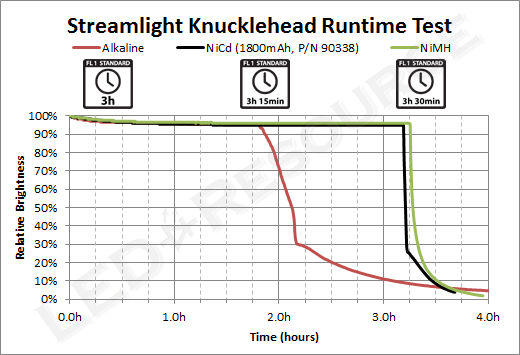 Accessories
Streamlight offers a variety of charging options, such as the PiggyBack charger, which charges both the light and a spare battery at the same time. It is available with a choice of standard or fast charging for the primary charger, but only steady charge for the spare battery.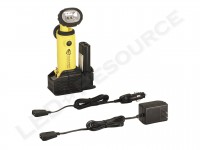 Conclusion
It's a busy time for IT as we near the end of the year, so it has taken us longer than usual to publish this review. On the other hand, we've been able to use the Knucklehead in a variety of practical situations, and it's quickly becoming our preferred light for work. Dual-LEDs in the Knucklehead provide an even flood beam for area illumination, unlike the focused beam of a flashlight that can be blinding, especially if shined on a white or metallic surface. With the Knucklehead's swiveling head, it's easy to direct light where it's needed.
One thing to keep in mind is that rechargeable Knucklehead packages cost about twice as much as the alkaline model – a significant premium. Performance with rechargeable NiMH AA batteries is similar to the rechargeable model; however, having removing the batteries for charging can be time-consuming compared to variety of charging options available for the rechargeable version. Unless you require the convenience of a rechargeable system, our verdict is that the alkaline version of the Knucklehead will offer the most utility, and value.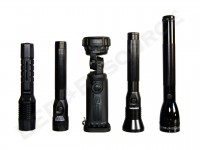 ---
Pros
Cons

High, low, flash, and moonlight modes
Scratch-resistant polycarbonate window
Dual power source, 4 x AA or rechargeable pack
Wide flood beam
Lifetime warranty
---
Related Links
Streamlight Knucklehead Series (Alkaline) Product Page
Streamlight Knucklehead Series (Rechargeable) Product Page
Download the Streamlight Knucklehead Fact Sheet