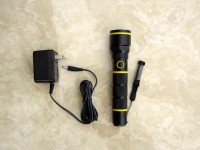 Even though Stanley Black & Decker is best known for quality hand tools, it should be no surprise that we're more interested their line of flashlights that run on 2AA, 3AAA, and 3D alkaline batteries, as well as a rechargeable NiMH model. We're big fans of rechargeable LED flashlights, so we'll be taking a look at the Stanley 95-154 Rechargeable Aluminum LED Flashlight in this review.
Key Specifications
Output: 70 lumens high
Runtime: 2h 30min
Battery: NiMH 1/2A Rechargeable Battery Pack
Length: 6.5″
Diameter: 1.4″ bezel, 1.0″ body
Weight with Batteries: TBD oz.
Warranty: 1 year
MSRP: $40
Pricing & Ordering
MSRP for the Stanley Rechargeable Flashlight is around $40, and the light can be found at retailers such as Amazon, Sears, and Target.
In The Box
Included in the box are: Stanley 95-154 Rechargeable Flashlight, NiMH rechargeable battery, AC adapter, and user manual.
Batteries
A proprietary rechargeable 1000mAh 1/2A NiMH battery is used in the 95-154.
To charge the light, plug the AC adapter into the charge port. There are no LED charge indicators since it is a steady charge, which will take 10-12 hours to complete.
The Light
Head
The head features a plastic window and a smooth aluminum reflector.
Body
The light is made of type-II anodized aluminum inside and out, and a reverse clicky switch is located just below the charge port. A rotatable rubber ring covers the charge port when not in use.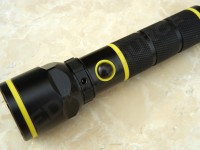 High visibility yellow bands make the flashlight easy to spot, and multiple bands of knurling on the body ensure a secure grip on the light.
Tail Cap
The hexagonal bolt-shaped tail cap is flat and allows the light to tail stand. A lanyard is included and is attached to the side of the tail cap.
Performance
The Stanley 95-154 has a single output mode of 70 lumens with its Cree XR-E LED, and it has a fairly clean beam pattern with a bright hotspot and plenty of side spill.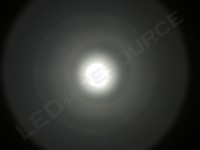 The light is water resistant, but because of the exposed charge port, we wouldn't recommend submerging it.
Runtime
If you haven't read our article about runtime graphs and the ANSI FL1 Standard, please click here.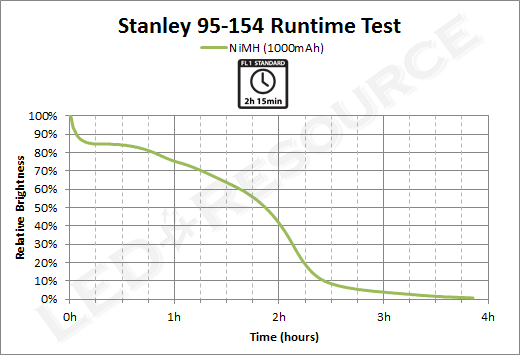 Stanley doesn't provide runtime information for the 95-154, but based on our testing, runtime is a solid 2h 30min and going down to 1% initial output at 4h.
Conclusion
Whether it's work around the house or at a construction site, the Stanley 95-154 is bright enough for the task. The Stanley 95-154 Rechargeable LED Flashlight is designed with heavy duty use in mind, and will also be a great gift for that handyman or outdoors enthusiast in your family.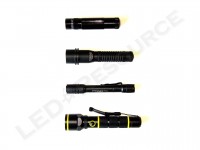 ---
Pros
Cons

Rechargeable NiMH battery
Compact size
Great price

Slow steady charge
No replacement battery available
---
Related Links