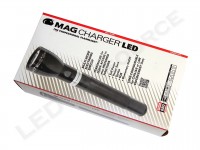 Maglite's flagship rechargeable MagCharger flashlight has finally been released with a factory LED module, and this latest entry in the Maglite lineup has 680 lumens of output and an intense 43,667 candela spot beam. The MagCharger LED uses a D-sized NiMH battery pack and is a full-size flashlight with 4.5 hours of regulated runtime on high and 16 hours on low. Five modes, including full power, power save, strobe, SOS, and momentary are organized into user-programmable function sets.
Key Specifications
Output: 680 lumens high, 170 lumens low
Intensity: 43,667 candela
Runtime: 4h 30min high, 16h low
Battery: NiMH Rechargeable Battery Pack
Length: 12.6″
Diameter: 2.3″ bezel, 1.5″ body
Weight with Batteries: 28 oz.
Warranty: Limited Lifetime with $18 Handling Fee
MSRP: $149.99
Actual Pricing: ~$125
Pricing & Contents
MSRP for the MagCharger LED is $149.99, and the light is only available in black. Several configurations are available depending on AC plug type, and pricing is around $125 for the most common RL1019 package.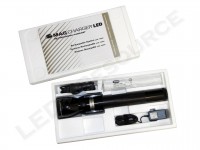 Included in the box are: Maglite MagCharger LED, NiMH rechargeable battery, charging cradle, AC adapter (100-240V), DC car adapter, and user manual.
Batteries
The MagCharger LED uses the same rechargeable battery pack as the updated incandescent MagCharger, which has a 3,500mAh NiMH battery pack and rated for 1,000 cycles. Based on data from the OEM datasheet, this is not low a self-discharge NiMH battery pack and should be charged every couple of months to retain adequate charge.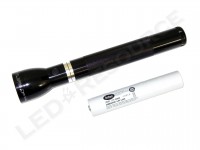 To charge the light, insert the head of the light into the charging cradle, and push down until the barrel locks in place. Charging is constant current and continuous, which can take up to 20 hours. The light can be left in the cradle indefinitely, but to prolong battery life, this is not recommended for long periods of inactivity.
The Light
On the exterior, the MagCharger LED is approximately the size of a Maglite 3-cell D and nearly indistinguishable from the incandescent version. This full-sized light has a type-III anodized finish to protect against scratches and corrosion.
Head
The head features a polycarbonate window and a smooth reflector. Focusing takes less than a quarter turn from end to end, going from flood to spot to flood.
The head mounted switch is an electronic switch similar to that of the XL- and ML-series lights.
Body
The MagCharger's distinctive charging bands are O-ring sealed and diode-protected to prevent accidental short circuiting, and smooth diamond knurling covers most of the body.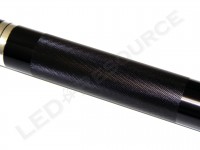 Tail Cap
A band of knurling is found on the tail cap, and the threads are anodized so the light can be locked out with a quarter turn of the tailcap.
Modes
Five modes, which are arranged into four function sets, are available for the user to choose from.
Full Power
Maximum output (100%).
Power Save
Reduced output (25%).
Strobe
The 12Hz strobe feature is designed for disorienting or getting somebody's attention.
SOS
SOS is the International Morse Code Distress Signal: three short flashes, three long flashes, and three short flashes.
Momentary
If momentary is enabled, the light turns off when the switch is released, and it must be pressed twice in quick succession to activate constant-on.
For all modes except for momentary, a single click will turn the light off.
Function Sets
To change the function set, start with the tailcap slightly unscrewed so that the light does not turn on when the switch is pressed. Press and hold the switch while screwing on the tailcap, and once the tailcap is screwed on all the way, the light will start flashing. The number of flashes corresponds to a function set's number, which are cycled. Releasing the switch selects the function set.
Function Set 1 (Default)
Full Power, Power Save, Strobe.
Function Set 2
Full Power, Power Save, SOS.
Function Set 3
Momentary, Full Power, Power Save.
Function Set 4
Momentary, Full Power, Strobe.
Performance
Using the latest Cree XM-L2 LED, the MagCharger LED is rated for 680 lumens. The redesigned focusing assembly eliminates "donut holes" in the beam pattern and makes focusing quicker.
On the two ends of the focusing cam are two distinct flood beams – a slightly larger hotspot with a defined cutoff (left) and a smoother flood pattern (right).
There is a standby current drain of 673 µA (0.673 mA), which combined with NiMH self-discharge, will require the light to be charged every 3-4 months if unused.
Runtime
If you haven't read our article about runtime graphs and the ANSI FL1 Standard, please click here.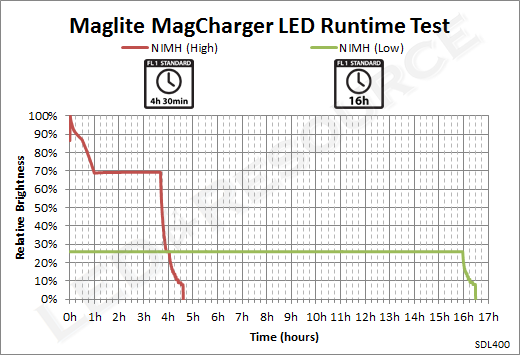 The MagCharger LED steps down to 70% after the first hour and maintains a steady output for almost three more hours. ANSI runtime of the MagCharger LED is 4h 30mins, which is longer than most ultra-high output lights that typically have around two hours of runtime.
Conclusion
Full-sized lights are less of a common sight nowadays, but with its large NiMH rechargeable battery, the MagCharger LED has roughly twice the runtime of a similar mid-sized light. Increased runtime is beneficial for many professional usage scenarios where it may not be possible or desirable to charge batteries, and 4h 30min on maximum output is plenty for most flashlight users. This is also a light that is easily customizable with an option for momentary operation, as well as flashing strobe or SOS modes. For users coming from alkaline D-cell lights or the incandescent MagCharger, the new Maglite MagCharger LED will easily outperform many lights both small and large.
---
Pros
Cons

Maximum output of 680 lumens
Improved flood-to-spot focusing
Long regulated runtime
User-programmable function sets
Lifetime warranty

Standby current drain
Large and heavy
Polycarbonate window
Handling Fee for warranty
---
Related Links
Maglite MagCharger LED Product Page