Completely different from any LED illumination tool on the market is the new SureFire 2211 WristLight. This unique wrist-mounted light can be used in conjunction with a firearm in a firing stance, or as a headlamp alternative for hands-free general purpose illumination in non-tactical scenarios. The 2211 uses an integrated lithium-ion battery, which can be recharged using a standard Micro-USB cable, and has a maximum output of 180 lumens for more than an hour.
Key Specifications
Output: 180 lumens high, 60 lumens medium, 15 lumens low
Intensity: 1,200 candela
Runtime: 1h 15min high, 4h medium, 13h low
Battery: Integrated Lithium-Ion Rechargeable Battery
Dimensions: 2.25″ x 2.0″ x 0.9″
Weight with Batteries: 3.7 oz.
Warranty: Limited Lifetime
MSRP: $495
Actual Pricing: ~$350
Pricing & Contents
MSRP for the 2211 WristLight is $495, and the light is only available in black. Included in the box are: SureFire 2211 WristLight, Micro-USB charging cable, USB AC adapter, and user manual.
Batteries
Powered by an integrated lithium-ion battery, the 2211 can be charged using any standard Micro-USB cable. To charge the 2211, connect the cable to the Micro-USB port on the light. Typical time for a full charge is three hours, and the Fuel Gauge LED turns green when the battery is charged to at least 90% capacity.
The 2211's housing is sealed, which means that the battery is not user-accessible. At the end of the lithium-ion battery's rated useful life of 1,000 cycles, the 2211 can be sent back to SureFire for a battery replacement (service fee will be determined in 2015). If the battery reaches the end of its useful life within two years of purchase, it will be covered under warranty. For maximum battery longevity, we recommend charging the battery to 90% by disconnecting the Micro-USB cable once the Fuel Gauge LED turns green.
The Light
With dimensions of 2.25" x 2.0" x 0.9" (at its thickest point) and a weight of 3.7 ounces, the 2211 is larger and heavier than most watches. It will take some time to get used to the 2211's size and weight, even if you normally wear a large sport watch. As with SureFire's handheld lights, the 2211's aluminum body is type-III anodized for maximum protection against scratches and corrosion.
Front
The 2211's Total Internal Reflection (TIR) optic is recessed and angled 35° upwards.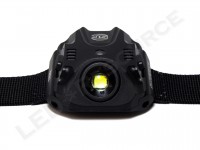 Side
Either one of the two electronic switches can be used to activate the 2211.
Back
On the back of the 2211 is the USB Micro-B charge port, which is sealed and IPX7 waterproof.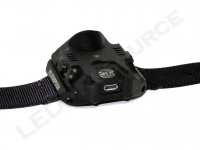 Top
At the center is the Fuel Gauge LED, which indicates battery charge status during use and while charging. Green indicates sufficient charge, orange indicates reduced charge, and red indicates low battery.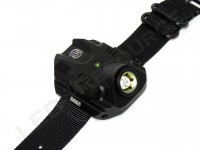 Bottom
The back of the 2211 is flat.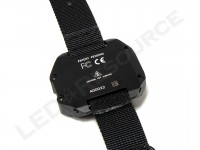 Strap
The 2211 comes with a 24mm nylon band, which can be removed using a 0.035″ hex wrench if you want to use your own band.
Function Sets
Three output levels can be activated through two function sets, depending on how the 2211's switches are pushed.
High-Low-Off
With a single press of either switch, the 2211 activates maximum output. Pressing the same switch again within 0.7 seconds will activate low output. A single press of either switch turns the light off.
Low-Medium-High
When both switches are pressed and held, the 2211 cycles through low-medium-high, stopping at high. Releasing both switches selects the current output level. A single press of either switch turns the light off.
Modes
Low (15 lumens)
8% reduced output mode for an extended runtime of 13 hours.
Medium (60 lumens)
33% output for a runtime of 4 hours.
High (180 lumens)
100% output for a runtime of almost 1.5 hours.
Performance
Using a Cree XP-E LED, the 2211 has a maximum output of 180 lumens and an intensity of 1,200 candela. The 2211 has a specially designed TIR optic that produces a diffused beam pattern, which is optimized for close-quarter illumination such as room searches (in tactical applications) or close-up work (in practical applications). At longer distances, the 2211's beam is too diffused to provide sufficient lighting.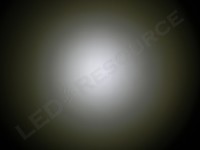 The 2211 has a sealed housing and an IPX7 water-resistance rating, which means that the light can be submerged at a depth of 3 feet for 30 minutes.
Runtime
If you haven't read our article about runtime graphs and the ANSI FL1 Standard, please click here.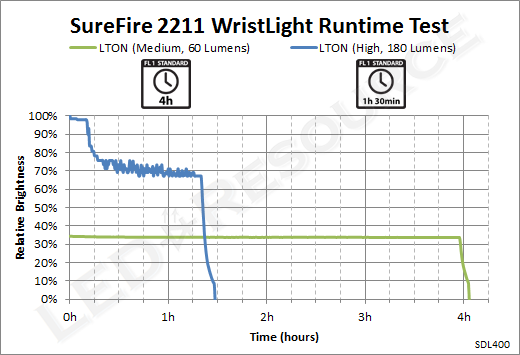 SureFire uses tactical and total runtime, which are not necessarily consistent with the ANSI FL-1 Standard specifications that we are using. For the 2211, maximum output runtime is given as tactical runtime (measured until output drops below 50 lumens), and lower output runtimes are given as total runtime until battery exhaustion.
Runtime on maximum output is just under an hour and a half when the 2211 shuts off.
Conclusion
It's not often that we see something totally unlike anything else, and the SureFire 2211 WristLight isn't your average flashlight. The wrist-mounted 2211 is part tactical light, part weapon light, and part hands-free light, and its diffused beam pattern easily illuminates a wide area at close distances. The 2211 provides area lighting, which supplements a weapon light for tactical situations such as room searches. In everyday use, the 2211 is excellent for nighttime walks because the angled optic keeps the beam pointed forwards, even if your hand is inside a pocket.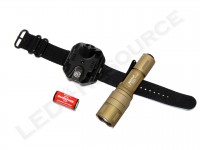 There are many more uses for the 2211 beyond these two scenarios, but what makes the 2211 especially unique is that output levels can be selected in both descending and ascending order. If only one switch is pressed, the 2211 will cycle through high-low-off, and if both switches are pressed, the 2211 will cycle through low-medium-high. This makes the 2211 suitable for tactical use with immediate access to maximum output, but also general purposes where maximum output is not necessarily needed.
With built-in Micro-USB recharging, the 2211 is inexpensive to operate and convenient to recharge. As an alternative to wearing a headlamp, the SureFire 2211 offers distinctive advantages, but also a dilemma. Since the 2211 is wrist-mounted, it takes the place of a watch but lacks timekeeping functionality. If you're like us and caught in this predicament, SureFire will be releasing the 2211 Luminox, which features a Luminox timepiece mounted on the standard 2211, later this year.
---
Pros
Cons

Maximum output of 180 lumens
Hands-free illumination
Three output levels
Two function sets
Dual side switches
Fuel Gauge battery charge indicator
TIR optic with diffused beam pattern
Lifetime warranty

Integrated battery
Expensive
Does not tell time!
---
Related Links
SureFire 2211 WristLight Product Page