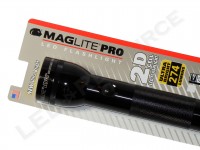 As we have already seen with the Mini Maglite Pro and Pro+, classic simplicity and modern power define the Maglite Pro series. In this review, we'll be taking a look at the full-sized member of this family, the single-output Maglite Pro 2D LED. Using two D-cell alkaline batteries, which is the only battery configuration offered, the Pro 2D LED has a maximum output of 274 lumens and intensity of over 33,000 candela.
Key Specifications
Output: 274 lumens
Intensity: 33,560 candela
Runtime: 12h 45min
Battery: 2 x D-cell
Length: 10.0″
Diameter: 2.25″ bezel, 1.6″ body
Weight with Batteries: 23.0 oz.
Warranty: Limited Lifetime with $12 Handling Fee
MSRP: $39.99
Pricing & Contents
MSRP for the Maglite Pro 2D LED is $39.99, and the light is only available in black.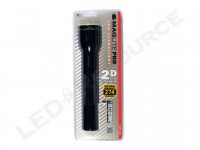 Included in the blister packaging are: Maglite Pro 2D LED Flashlight and user manual.
Batteries
The Maglite Pro LED is only offered with a single battery configuration, which is the compact 2D-cell version. With electronic circuitry and LEDs making large D-cell lights obsolete, this product line simplification doesn't really surprise us (the only difference between the Maglite LED 2D-cell and 3D-cell lights is runtime).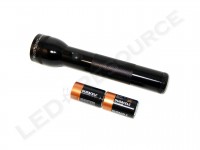 The Light
The Pro 2D is a variant of the D-cell Maglite, and standard D-cell Maglite accessories such as traffic wands and mounting brackets will work with the Pro 2D. As with most Maglites, the aluminum body is type-II anodized.
Head
The head features a plastic window and a smooth reflector. Optimal focus can be achieved by twisting the head.
Body
Knurling on a section of the body provides grip for the light.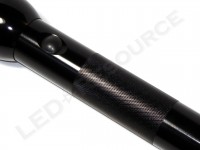 Tail Cap
The flat tail cap allows the Pro 2D to tail stand.
Performance
Using a Cree XP-G LED, the Maglite Pro 2D LED is rated for 274 lumens. The Pro 2D has a larger hotspot than the standard D-cell lights, which makes the increased output of the Pro 2D less obvious. Beam pattern of the Pro 2D is artifact-free at optimal focus, but holes and rings quickly appear if the light is defocused.
When activating the Pro 2D, the light does not turn on immediately and has a quick, but noticeable, "fade-in" effect like the XL100.
Runtime
If you haven't read our article about runtime graphs and the ANSI FL1 Standard, please click here.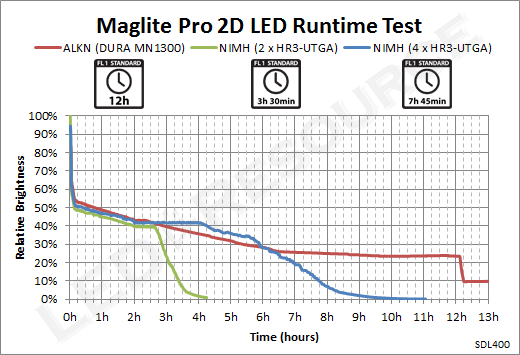 Maglite uses step-down regulation, which reduces the Pro 2D's output to 60% during the first 12 minutes of continuous operation. When used with two NiMH AA batteries (in D-cell adapters), runtime is reduced but performance is roughly the same for the first 2h 30min.
Conclusion
While the Maglite Pro 2D LED combines modern performance with the classic D-cell flashlight, this might actually be a drawback – we can't think of any other modern device that uses D-cell batteries. The availability of rechargeable NiMH and energy-dense lithium-ion batteries, combined with the obsolescence of other D-cell electronics (such as large radios and cassette players), has largely decreased D-cell usage. Even obtaining alkaline D-cells for use in our runtime test, given our budget (or rather the lack thereof), proved to be challenging since the packaging doesn't include batteries.
Of course, using D-cells isn't specifically a problem with the Maglite Pro 2D, but it is definitely a factor to consider. There are many advantages of a larger-sized light, such as being easier to grip, but large lights don't necessarily have to be heavy. For most of our testing with the Pro 2D, we used Sanyo Eneloop AA's in plastic battery adapters, and when used with adapters that take two AA's in parallel, battery weight is halved and runtime is still more than sufficient. If you are considering a full-sized flashlight, we would definitely recommend purchasing a couple adapters to have the option of using AA's.
---
Pros
Cons

Maximum output of 274 lumens
Smooth beam pattern in spot mode
Simple and easy to use
Lifetime warranty

Big and heavy
"Fade-in" activation
Plastic switch tower (poor thermal path)
---
Related Links