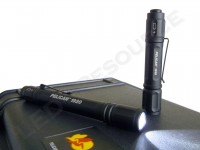 There's a saying that the best camera is one that you have with you – the same goes for a flashlight. The new Pelican 1910 and 1920 flashlights are easy to carry, and with these compact LED flashlights, there's no reason to need a light and not have one. Unlike many compact flashlights that are twist-on and twist-off, the Pelican 1910 and 1920 use momentary-capable tail switches. Both lights are single-mode and run on AAA batteries.
Key Specifications
Output: 39 lumens (1910), 67 lumens (1920)
Runtime: 1h (1910), 2h 45min (1920)
Battery: 1 x AAA (1910), 2 x AAA (1920)
Length: 3.6″ (1910), 5.3″ (1920)
Diameter: 0.6″
Weight with Batteries: 1.4 oz (1910), 2.2 oz. (1920)
Warranty: Limited Lifetime
MSRP: $32.95 (1910), $35.95 (1920)
Actual Pricing: ~$25-$30
Pricing & Ordering
MSRP for the Pelican 1910 is $32.95, and $35.95 for the 1920. Both lights are only available in black.
In The Box
Included in the 1910's box are: Pelican 1910, 1 x AAA alkaline battery, and user manual. Included in the 1920's box are: Pelican 1920, 2 x AAA alkaline batteries, and user manual.
Batteries
Both lights operate on AAA batteries, and contrary to initial product images, batteries are to be inserted positive end first, not the other way around.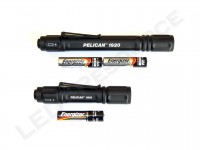 The Light
Head
The head, which cannot be removed from the body, features a polycarbonate window and a smooth reflector.
Body
The light is type-II anodized aluminum inside and out, and the forward-facing pocket clip can be removed if desired. Some ribbing and patterns, as well as the pocket clip, provides grip on the body.
Tail Cap
On the tail cap is a forward clicky switch, covered with black rubber. The rubber protrudes, so the light cannot tail-stand.
Modes
As with the 7060 and most of Pelican's lights, the 1910 and 1920 are single mode, so that's about it for this section.
Performance
The Pelican 1910 is rated for 39 lumens, the 1920 for 67 lumens, and both lights use the Cree XP-C LED. Since these are general purpose lights, the hotspot isn't tightly focused or well defined like a tactical light, but overall the beam is smooth and clean.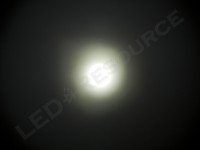 Runtime
If you haven't read our article about runtime graphs and the ANSI FL1 Standard, please click here.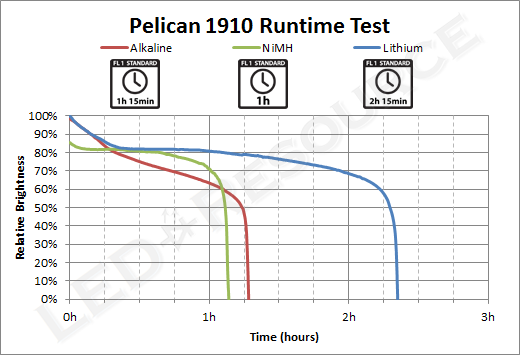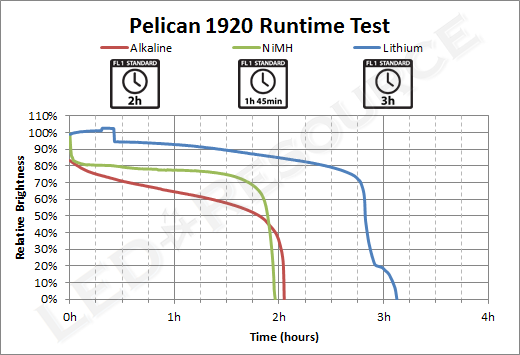 The ANSI FL-1 standardized output and runtime specifications of these lights were made using alkaline batteries, which are included with the lights, and NiMH rechargeable and Energizer Lithium primary AA's may also be used for increased brightness and more consistent output.
Conclusion
As LED technology improves, lights are not only getting brighter, but also smaller. While the Pelican 1910 is a little too large to be a keychain light, its rated output of 39 lumens makes it one of the brightest single AAA lights. The 1920 is also one of the brightest 2AAA "penlights" with its 67 lumen output. These lights are priced about $10 more than similar offerings, but if you need a brighter pocket light, it's definitely worth it. Overall, we were impressed with the build quality and output of the Pelican 1910 and 1920 flashlights.
---
Pros
Cons

High output for a 1AAA and 2AAA light
Lightweight and compact
Momentary-capable tail switch
Lifetime warranty

"Blob" hotspot
Slightly higher price
---
Related Links