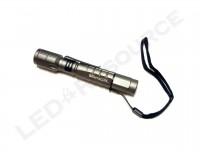 TerraLUX, best known for the MiniStar line of LED upgrade modules, also has a small line of performance flashlights. The LightStar family consists of several AA-powered flashlights, with the new LightStar300 featuring a wide beam pattern and increased brightness over older models. Standard features of the LightStar are aluminum construction, removable pocket clip, and a wrist strap lanyard.
Key Specifications
Output: 140 lumens (estimated)
Runtime: 3h
Battery: 2 x AA
Length: 5.9″
Diameter: 1.0″ bezel, 0.9″ body
Weight with Batteries: 5.25 oz.
Warranty: Limited Lifetime
MSRP: $54.99
Actual Pricing: ~$35
Pricing & Ordering
MSRP for the LightStar300 is $54.99, and is available in titanium gray or high visibility orange. The LightStar300 can be found for around $40 at retailers such as Amazon.com.
In The Box
Included in the blister packaging are: TerraLUX LightStar300, lanyard, and 2 x AA Duracell alkaline battery.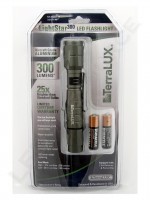 The LightStar300 is backed by TerraLUX's new lifetime warranty, which covers all LightStar flashlights purchased since September 2010.
Batteries
The LightStar300 uses two AA alkaline batteries, which are included, and NiMH rechargeable and Energizer Lithium primary AA's may also be used for increased brightness and more consistent output.
The Light
Head
The head features a glass window and a textured orange-peel reflector, and cannot be removed from the body.
There are three flat edges on the head, which stops the light from rolling away.
Body
The light is type-II anodized aluminum inside and out, and both the pocket clip and lanyard ring are removable.
Tail Cap
On the tail cap is a reverse clicky-type switch covered by black rubber.
The switch is recessed, which prevents accidental button presses or mode changes, and the tailcap can be unscrewed a quarter-turn to lock-out the light.
Modes
After turning the light on, a light tap on the switch changes the mode. The light retains memory of the previously used mode for approximately 5 seconds.
1 Click: High
A single click activates 100% mode.
2 Clicks: Low
With two clicks, the ~10% mode is activated.
Performance
At the moment, TerraLUX does not use ANSI standardized specifications, and the stated 300 lumens is theoretical and does not consider optical losses. Actual output is around 140 lumens for high mode and 10 lumens on low.
In contrast with tactical lights, the LightStar300 has a more evenly distributed flood beam, which is easy on the eyes and great for close or indoor work.
Runtime
If you haven't read our article about runtime graphs and the ANSI FL1 Standard, please click here.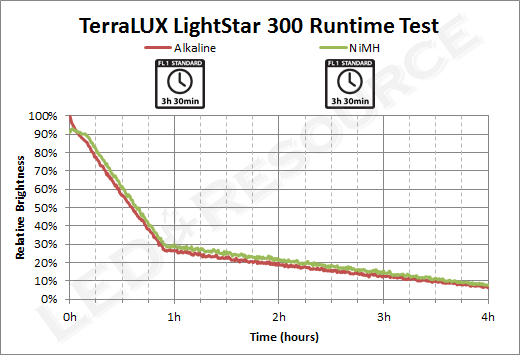 Conclusion
Functional would be the best way to describe the LightStar300. Most flashlights are designed for high-output tactical use, which tends to be a drawback for household or professional use as tactical lights are designed to illuminate distant objects. With a smooth glare-free beam, the LightStar300 is ideal for everyday use around the home or workplace.
---
Pros
Cons

High and low modes
Wide, uniform beam pattern
Removable lanyard and pocket clip
Anti-roll design
Lifetime warranty

Easy to accidentally switch modes
---
Related Links