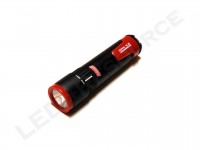 Compatible with the Coleman CPX 4.5 Family, the CPX 4.5 Flashlight puts out 126 lumens and runs for up to 7 hours. A simple no-frills flashlight is a good choice for household use, as it won't confuse users with fancy modes or multiple button presses. The ability to swap batteries between other CPX 4.5 products, such as the CPX 4.5 headlamp or lantern, single output, and ease of use characterizes the Coleman CPX 4.5 Flashlight that is up for review.
Key Specifications
Output: 126 lumens
Runtime: 7h
Battery: 1 x CPX 4.5 Power Source (3 x AAA or Rechargeable NiMH)
Length: 5.75″
Diameter: 1.4″ bezel
Warranty: 1 year
MSRP: $34.99
Pricing & Ordering
MSRP for the CPX 4.5 Flashlight is $34.99.
In The Box
Included in the blister packaging are: Coleman CPX 4.5 Flashlight, 3 x AAA Duracell alkaline batteries, and user manual.
Batteries
The CPX 4.5 Flashlight uses either the included 3AAA cartridge, or the optional rechargeable pack.
To insert the batteries, twist and remove the top of the cartridge.
The Light
Head
The head has a plastic window and bezel, and a lightly textured reflector.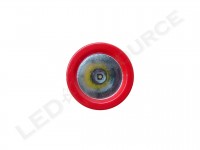 Body
The body of the light is made of anodized aluminum. A ribbed twist switch, which clicks when turned all the way, makes the light easy for both the young and old.
Red plastic aligns the battery pack and also functions as anti-roll design.
Modes
The CPX 4.5 Flashlight has a single output mode.
Performance
On alkaline batteries, the Cree XP-C LED produces 126 lumens on high for 7h.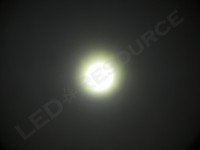 The shallow reflector produces a wide beam with a small hotspot in the middle.
Accessories
An optional Rechargeable Power Cartridge (MSRP $24.99) is compatible with the CPX 4.5 family and is a direct drop-in replacement for the 3AAA battery pack.
Both a 100V-240V AC adapter and a 12V car adapter are included with the 600mAh NiMH battery pack, which has a charge port and status LED on the bottom. A full charge can take up to four hours.
Unfortunately, the price is quite high for a NiMH battery pack, and the runtime was shorter than expected. For a rechargeable solution, we would recommend using 3AAA Sanyo Eneloop batteries instead.
Conclusion
Had the Coleman CPX 4.5 Flashlight been half the price, we would have no problem giving it the thumbs up. However, the MSRP does reach into the price range of more performance oriented lights, so the verdict would be to consider the price first. Pricing aside, the CPX 4.5 Flashlight is a solid choice for home and outdoor use.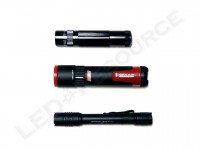 ---
Pros
Cons

Easy to use twist switch
Wide beam
Lightweight
---
Related Links