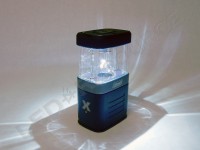 It's hard to beat a lantern for area illumination, but lanterns have traditionally used more delicate and less efficient light sources, such as fluorescent tubes or incandescent bulbs, and tend to be large and cumbersome. Featuring LED technology and a collapsible design, the Coleman Exponent 4AA Pack-Away Lantern weighs just 8 ounces and produces 95 lumens of light for 5 hours.
Key Specifications
Output: 95 lumens high, ~45 lumens low
Runtime: 5h high, 12h low
Battery: 4 x AA
Length: 3.19″ closed, 4.87″ open
Width: 2.72″
Depth: 1.87″
Weight with Batteries: 8 oz.
Warranty: 5 years
MSRP: $34.99
Pricing & Ordering
MSRP for the Exponent 4AA Pack-Away Lantern is $34.99, and is available in black, blue, orange, red, and green.
In The Box
Included in the blister packaging are: Coleman Exponent 4AA Pack-Away Lantern, 4 x AA Duracell alkaline batteries, carabiner clip, and user manual.
Batteries
The Exponent 4AA Pack-Away Lantern uses 4AA batteries, which are inserted from the bottom. Both alkaline and NiMH batteries can be used.
The Lantern
Top
Covered with a rubberized coating, the top of the lantern has a foldable handle and power button, which is an electronic switch.
Window
The collapsible middle portion of the lantern houses the LED and conical reflector.
The conical shape reflects light in all directions, and the entire LED and reflector assembly retracts into the base when the lantern is closed.
Base
The base is made from soft plastic and houses the batteries, which are inserted from the bottom.
The battery cover can be unscrewed either by hand or with a coin.
Modes
The Exponent 4AA Pack-Away Lantern has three modes, which cycle each time the power button is pressed.
1 Click: High
A single click activates full brightness.
2 Clicks: Low
With two clicks, the low mode (approximately 50%) is activated.
3 Clicks: Strobe
With three clicks, the strobe mode is activated with maximum brightness. The "strobe" is a fast flash, not a flashlight strobe that is designed to be disorienting.
4 Clicks: Off
The lantern automatically turns off when collapsed, and to prevent accidental activation, does not turn on when stowed.
Performance
Powered by a single Cree XR-E LED, the lantern is rated for 95 lumens on high for 5 hours, and ~50 lumens on low for 12 hours (note: these specifications are not ANSI FL-1) on alkaline batteries.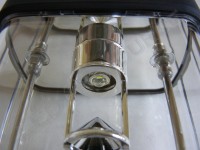 The compact pack-away design has a drawback in that the beam has artifacts due to the several support posts inside, but these are mostly on the left and right sides and doesn't affect operation.
We don't recommend operating the lantern on high for more than an hour, as the top of the lantern gets quite warm, however we didn't notice any problems during or after our runtime test.
Battery Type
Runtime (High)
Runtime (Low)

Alkaline


Duracell CopperTop MN1500
Total: 5h
12h

Rechargeable NiMH


Sanyo Eneloop HR3-UTGA
Regulated: 3h
Total: 4h 30m
–

Lithium Primary


Energizer Ultimate Lithium L91
–
–
Conclusion
Capable of lighting up a small room, the Coleman Exponent 4AA Pack-Away Lantern is very bright for its small size. The 4AA Pack-Away Lantern offers two brightness levels, as well as an emergency signaling mode, for a runtime of up to 12 hours on alkaline or rechargeable NiMH batteries.
---
Pros
Cons

High, low, and strobe modes
Auto-shutoff when closed
Compact collapsible design
5-year warranty

Beam artifacts from window
Not water-resistant
---
Related Links