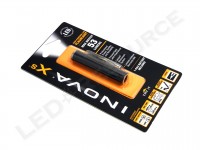 One of the latest additions to Inova's X-series line of LED flashlights is the new Inova XS. Powered by a single AAA battery, the XS has a maximum output of 53 lumens and runs for more than an hour. Using the included Nite Ize S-Biner, the XS is easily attachable to key chains or a zipper pull, measures just under 3" long, and weighs only 1.1 oz. In this review, we'll be taking testing out the Inova XS, which is not only one of the smallest AAA keychain lights, but also one of the few with multi-mode operation.
Key Specifications
Output: 53 lumens high, 6 lumens low
Runtime: 1h 15min high, 26h low
Battery: 1 x AAA
Length: 2.9″
Diameter: 0.6″
Weight with Batteries: 1.1 oz. (without lanyard)
Warranty: Limited Lifetime
MSRP: $23.99
Actual Pricing: ~$20
Pricing & Contents
MSRP for the Inova XS is $23.99, and the light is available in black or titanium (color).
Included in the box are: Inova XS, AAA alkaline battery (installed), Nite Ize S-Biner lanyard, and user manual.
Batteries
One AAA battery powers the Inova XS, and rechargeable or lithium primary batteries can also be used for better performance.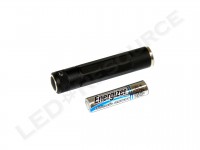 The Light
Head
Stainless steel accents the bezel, which houses a polycarbonate window and textured aluminum reflector.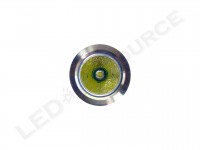 Body
Several ridges run along the body of the XS, which is type-II anodized, but this simplistic design does not provide much grip and doesn't stop the light from rolling off smooth surfaces.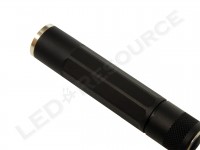 Tail Cap
Black rubber covers the rear tactical-style switch – press for momentary or twist for constant on. With a full turn of the tail cap, the XS can be locked out to prevent accidental activation.
Modes
Just like the Inova X2 2AA light, the XS has a multi-mode user interface for high and low output modes.
High
A single press or twist will run the light at the maximum output of 53 lumens.
Low
Two activations within two seconds will activate low power mode for 6 lumens.
Performance
Using a Cree XP-C LED, the Inova XS has an output of 53 lumens. As expected, the beam pattern is smooth without any artifacts.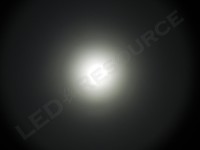 Runtime
If you haven't read our article about runtime graphs and the ANSI FL1 Standard, please click here.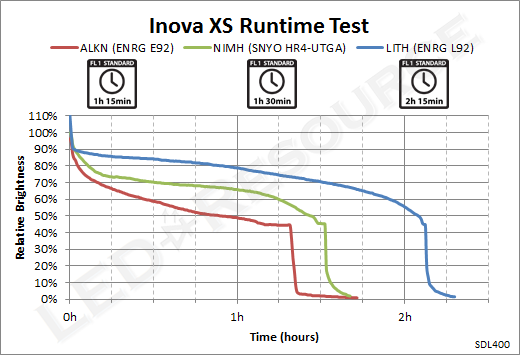 There is no step-down regulation, and runtime is typical for a high-output single AAA light.
Accessories
Included with the XS is a Nite Ize S-Biner lanyard for attaching the light to your keychain. It doesn't have a spring, so you'll need to close it manually.
Conclusion
As one of the smallest single-cell AAA lights available on the market, the short length of the Inova XS does have one minor drawback. It's easy to block the front end of the light, and momentary activation isn't especially comfortable, so we preferred twisting the light for constant on rather than using momentary. That being said, the Inova XS is a sleek and compact multi-purpose flashlight, much like its larger sibling, the X2. Pricing is competitive, and build quality is excellent, making this a great choice for anyone looking for a keychain light.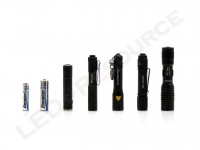 ---
Pros
Cons

High and low modes
Compact size
Solid build quality
Smooth beam pattern
Lifetime warranty

Difficult to press for momentary
No anti-roll device
Slippery barrel
---
Related Links