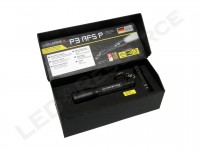 LED Lenser's latest keychain-sized light, the P3 AFS P, is also the company's smallest light with the Advanced Focus System that provides an easy spot-to-flood transition. This updated version of the single-cell AAA P3BM uses a TIR optic coupled with a higher-output LED, and its 75-lumen output makes it one of the brightest lights of its size. In this review, we'll be taking a look at this high-performance, yet compact-sized light from LED Lenser.
Key Specifications
Output: 75 lumens
Runtime: 1h
Battery: 1 x AAA
Length: 3.7″
Diameter: 0.7″ bezel, 0.6″ body
Weight with Batteries: 1.4 oz.
Warranty: 5 years
MSRP: $40
Actual Pricing: ~$35
Pricing & Contents
MSRP for the LED Lenser P3 AFS P is $40, and the light is only available in black.
Included in the box are: LED Lenser P3 AFS P, 1 x AAA alkaline battery, pocket clip, lanyard, nylon holster, and user manual.
Batteries
One alkaline, lithium, or rechargeable AAA battery powers the compact P3 AFS P.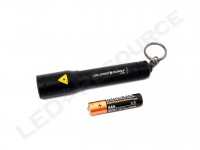 The Light
Head
A plastic optic in the adjustable bezel allows easy spot-to-flood adjustment. However, unlike the P5R (and most other models), the bezel does not lock.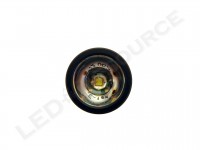 Body
Smooth knurling along the barrel of the light, which is type-II anodized, provides grip.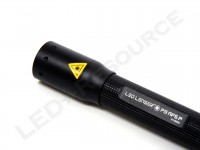 Tail Cap
Textured black rubber covers the raised, and easy to press, forward click switch.
Performance
Single-cell AAA lights have come a long way, and with a Cree XP-C LED producing 75 lumens, the P3 AFS P provides plenty of light.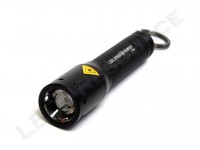 Beam pattern in flood focus is clean, and spot mode focuses down to a square hotspot.
Runtime
If you haven't read our article about runtime graphs and the ANSI FL1 Standard, please click here.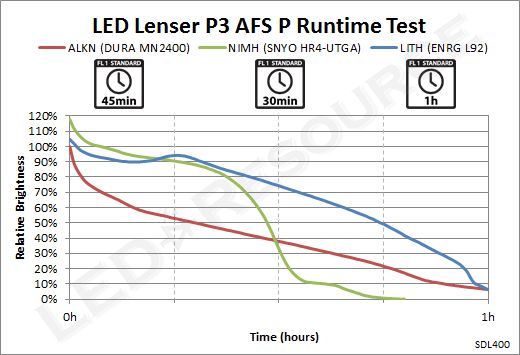 Due to the high current draw, output decreases throughout the runtime, especially with alkaline batteries. As such, we would recommend using NiMH rechargeable or lithium primary batteries for more consistent output.
Accessories
LED Lenser includes a variety of accessories with the P3 AFS P, including a pocket clip, wrist strap, and nylon belt holster.
Conclusion
Compact yet powerful, the LED Lenser P3 AFS P is a versatile keychain-sized light. That being said, small size does come with some tradeoffs, such as a bezel lock. While an O-ring provides some resistance, it's not enough to keep the bezel from being accidentally pushed. If you shine it on something up close with the focus in spot mode, the P3 AFS P's high output is not going to be friendly to your eyes!
For lights this small, a responsive switch is important, and the P3 AFS P's switch is easy to find and press. Lacking a bezel lock is our only gripe with the P3 AFS P (other than its rather complex name that we had to type so many times), but we've made a habit of pulling back the bezel while turning on the light, which makes things more predictable. Build quality of the P3 AFS P is great, and it comes with enough accessories to get you started.
---
Pros
Cons

High output from one AAA battery
Adjustable focus
Easy-to-activate tail switch
Compact size
Bundled accessories

Bezel doesn't lock in place
Price
---
Related Links