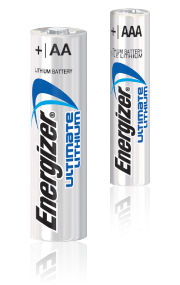 As part of our dedication to providing valuable information in our reviews, LED-Resource is pleased to announce that we have partnered with Energizer, manufacturer of long-lasting and lightweight lithium primary AA and AAA batteries, to provide runtime test results using Energizer Ultimate Lithium batteries. This new test result will be included in all of our future reviews where applicable, and we will gradually roll out this feature to previous reviews.
A question frequently asked about lithium AA/AAA batteries is: why are they superior to alkaline? Here are a couple reasons:
Lasts Longer: At 500mA current draw, a lithium AA battery has a capacity of 3000mAh, compared to 1400mAh for alkaline.
Better Performance: Alkaline batteries aren't designed for the high current draw of high-powered LED flashlights. Lithium batteries also have a slightly higher voltage, giving flashlights an extra boost.
Extreme Temperatures: Works from -40°F to 140°F
Leak-Free: We've all had a messy alkaline leak at some point or another, and a battery leaking in a confined space is usually the end for a flashlight.
Long Storage Life: Retains 90% capacity after 15 years.
Lightweight: Between 30-50% lighter than alkaline and rechargeable batteries.
By now, you've probably noticed that we haven't mentioned how much lithium batteries cost. Indeed, the drawback of lithium batteries is high cost, which is why alkaline batteries are still very popular. We leave weighing that drawback up to you, but from a performance standpoint, lithium batteries are no compromise!
We will be introducing Energizer Ultimate Lithium runtime tests in a new table in the Performance section of our reviews to display runtime results in a more clear and concise format. Here's a sample table with results for the SureFire E2L AA Outdoorsman flashlight:
Battery Type
Runtime (High)
Runtime (Low)

Alkaline


Duracell CopperTop MN1500
Regulated: 3h 30m
Total: 4h 15min
50h

Rechargeable NiMH


Sanyo Eneloop HR3-UTGA
Regulated: 5h
Total: 5h 15m
40h

Lithium Primary


Energizer Ultimate Lithium L91
Regulated: 10h
Total: 10h 15min
60h
For runtime on high mode, we've split the results into two values: Regulated and Total. Regulated is the amount of runtime before a significant drop in brightness, and Total is the amount of runtime before reaching 10% of initial brightness (ANSI FL-1 standard). If there are missing values, it means that we didn't conduct the test or it is an ANSI FL-1 specification provided by the manufacturer (which wouldn't have Regulated runtime). Obviously, for a light like the Maglite XL200 where runtime on low is 218h, we won't be conducting any of our own runtime tests!
We hope that you'll find this new information useful in choosing the right flashlight, as well as the right batteries, for your needs!
Update 10/27/2011: We are pleased to announce that we have partnered with Extech Instruments, a FLIR Company, to take our runtime tests to the next level with runtime graphs! Runtime tests will be postponed until we begin to replace runtime tables with runtime graphs.
Update 11/8/2011: All reviews from now on will include runtime graphs of the highest output mode, and runtime graphs will be added to previous reviews when available. Here's a sample chart with results for the SureFire E2L AA Outdoorsman flashlight: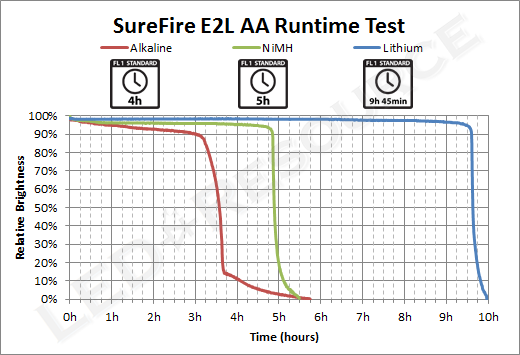 Unless otherwise stated, battery types are as follows:
Alkaline: Duracell CopperTop or Energizer MAX, whichever is included with the light
NiMH: Sanyo Eneloop HR3-UTGA (AA) or HR4-UTGA (AAA)
Lithium: Energizer Ultimate Lithium