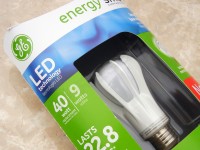 Many LED bulbs are already on the market, however, most of these are either spot-type lamps or bulbs that only disperse light forwards. The GE Energy Smart LED is the first omnidirectional LED bulb on the marked, made possible a unique design of cooling fins that leave the sides of the lamp exposed. This 9W LED bulb replaces a 40W incandescent, and has a rated lifetime of 22.8 years that is backed by a 10-year warranty.
Key Specifications
Output: 450 lumens
Dimmable: No
Power: 120V 0.08A 9W
Color Temperature: 3000K
Lifespan: 25,000 hours
Weight: 4.20 oz.
Warranty: 10 years
MSRP: $50.00
Pricing & Ordering
MSRP for the GE Energy Smart LED bulb is $50 direct from GE Appliances. This is quite a bit more expensive than similar LED bulbs, but some home improvement stores such as Lowe's carry this bulb for about $35, which is a little more competitive pricing.
The Bulb
The bulb consists of an opaque glass top and metallic heat sink "arms" that dissipate heat from the circuitry and LED.
Light is also projected downwards from the LED due to this unique design, a rare feature among LED bulbs.
Dimming
GE does not specifically mention whether or not this bulb can be dimmed, so we tested it in a Lutron dimmable ceiling fixture.
The bulb worked fine with the dimmer, but emitted an audible buzz in all brightness settings. Since the bulb is silent when used in a regular socket, we determined that the Energy Smart LED bulb is not compatible with dimmers and wouldn't recommend using it in one.
Performance
We tested the Energy Smart LED bulb against 45W and 60W incandescent bulbs, and found it to almost match the brightness of a 60W bulb.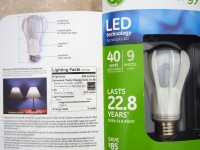 Light distribution rivals that of an incandescent, making it ideal for use where more directional LED bulbs fall short.
The color temperature of the LED bulb is cooler than incandescent bulbs and is closer to pure white.
Conclusion
Although the GE Energy Smart LED bulb comes at higher cost than the average 40W replacement LED bulb, the balanced omnidirectional illumination makes this bulb suitable in challenging locations. For non-dimming fixtures, the GE Energy Smart LED bulb produces 450 lumens of bright white light that is suitable for any location.
---
Pros
Cons

Bright white color
Even light distribution
Instant full brightness
10-year warranty

High entry cost
Not dimmable

Overall

General purpose LED replacement bulb with bright white omnidirectional light.
---
Related Links