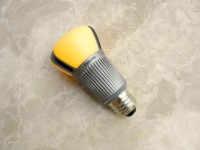 One of the highest output A-Shape LED replacement bulbs on the market today is the Philips AmbientLED A19 12.5W, which replaces a 60W incandescent with 800 lumens of soft white 2700K light. This LED bulb is the first 60-watt equivalent LED replacement bulb, and is omnidirectional, fully dimmable, and has a rated life of 25,000 hours with a 6-year warranty.
Key Specifications
Output: 800 lumens
Dimmable: Yes
Power: 120V 0.14A 12.5W
Color Temperature: 2700K
Lifespan: 25,000 hours
Weight: 6.24 oz.
Warranty: 6 years
MSRP: $39.97
Pricing & Ordering
MSRP for the Philips AmbientLED A19 12.5W LED bulb is $39.97, and the bulb can be found online, or in your local home improvement store.
The Bulb
The bulb consists of an opaque orange plastic top and large metallic heat sink that dissipate heat from the circuitry and LED.
Light is projected evenly both upwards and downwards from the LED bulb.
Dimming
The AmbientLED bulb can be dimmed, so we tested it in a Lutron dimmable ceiling fixture. On the lowest setting, the incandescent bulbs were barely lit, while the LED bulb was much brighter.
During our testing, two of the seven incandescent bulbs on that circuit burned out, one following the other. This could be more than just a coincidence, so we advise against mixing LED and incandescent bulbs.
Performance
We tested the AmbientLED bulb against 45W and 60W incandescent bulbs, and found it to match the brightness of a 60W bulb without issue. The AmbientLED does have a split second power-on delay.
Light distribution rivals that of an incandescent, making it ideal for use where more directional LED bulbs fall short. The color temperature of the LED bulb is very similar to incandescent bulbs due to the orange filter.
Conclusion
The Philips AmbientLED A19 12.5W is a true 60W-equivalent LED replacement bulb with uniform light output and is also dimmable. In order to achieve the warm soft white color, Philips used an orange filter, which can be unsightly if installed in an open fixture. However, if the bulb is hidden or the color doesn't bother you, the AmbientLED 12.5W LED replacement bulb is a great choice where the typical 40W-equivalent LED bulb isn't bright enough.
---
Pros
Cons

Soft white color
Even light distribution
Dimmable
6-year warranty

High entry cost
Power-on delay
Unsightly orange lens

Overall

High-output 60W-equivalent LED replacement bulb with soft white omnidirectional light.
---
Related Links
Philips AmbientLED Product Page