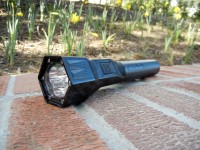 This is it, the 5.11 Tactical Series Light for Life PC3.300 flashlight. Unique to this flashlight is that it uses Advanced Capacitors, rather than batteries, to store energy. With a charge time of only 90 seconds and low weight, the Light for Life PC3.300 promises many improvements over conventional power sources.
Key Specifications
Output: 200 lumens peak, 70 lumens standard, 20 lumens low, 150 lumens strobe
Runtime: 13min peak, 45min standard, 4h low, 2h 15min strobe
Battery: Capacitors
Length: 8.75″
Diameter: 2.0″ bezel, 1.2″ body
Weight: 10 oz.
Warranty: Limited Lifetime
MSRP: $160
Pricing & Ordering
The MSRP for the Light for Life PC3.300 is $160, and is available in black or reflective yellow.
In The Box
Included in the box are: 5.11 Light for Life PC3.300 flashlight, charging cradle, 2 x mounting screws, AC adapter, and user guide.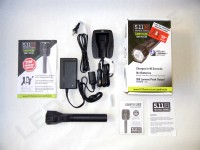 Batteries
None here! The Light for Life series introduces a new kind of technology that redefines the rechargeable flashlight. Most rechargeable flashlights require hours of charging, but after only 90 seconds, the Light for Life is ready to go. The reason behind the innovation is the use of capacitors, which store energy as electrical charge, rather than chemical charge.
The patented FlashPoint Power Technology manages energy for a fast charge with little degradation. Capacitors can also be recharged many more times than batteries due to the fact that capacitors do not deteriorate over time and never need to be replaced. The PC3.300 is designed to be recharged up to 50,000 times.
To charge the light, insert the head of the light into the charger. Magnets ensure proper alignment of the charging contacts, as well as secure the light. For best performance, 5.11 advises the user to charge the light for at least 24 hours prior to any use. The capacitors can hold a charge for about two weeks.
The Light
Head
The head features a plastic window, 3 LEDs, and triple smooth reflectors. The hexagonal design of the head prevents the light from rolling when set on a smooth surface.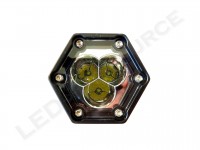 Body
The body is made out of high impact-resistance polymer, giving the PC3.300 a rigid, yet lightweight feel.
The head mounted switch is an electronic switch covered by black rubber with the 5.11 logo. The switch has a feel similar to a computer mouse's "click," and unfortunately, is fairly shallow and stiff.
Tail Cap
The tail cap switch is similar to the head mounted switch, but is recessed to prevent accidental activation.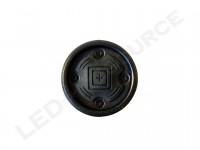 Momentary activation is not possible with either switch.
Modes
The Light for Life PC3.300 comes with a choice of three program configurations, selectable at purchase, and feature a variation of peak, standard, ramp, low, and strobe. The configuration cannot be changed by the user, so careful consideration must be made at the time of purchase.
P1 (Default)
Peak: Press and hold in any mode to activate. Release button to return to previous mode.
Standard: Single Click
Strobe: Double Click
Our review unit came with the P1 programming, which is the recommended configuration since runtime on standard is much longer than peak. The light will run in standard output for most of time, and when additional output is needed, a 200 lumen burst can be activated.
P2 (Ramp)
Peak: Single Click
Ramp: Press and hold, and brightness will slowly increase. Release button to set brightness.
Strobe: Double Click
The P2 configuration has peak available with a single click, making this mode suitable for tactical use. If the short peak runtime is not a big concern, this setup will quickly provide maximum output.
P3 (Document)
Peak: Press and hold in any mode to activate. Release button to return to previous mode.
Standard: Single Click
Low: Double Click
Optimized for everyday use and document reading, the P3 program removes strobe in favor of a 20 lumen low mode for extended runtime. Once again, peak is accessible anytime with a push-and-hold.
Performance
The 5.11 Light for Life PC3.300 is rated for 200 lumens with its three Cree XP-E LEDs. The triple reflector in this model produces a smooth flood beam that easily illuminates objects over 100 yards away. Only up close is the triangular beam pattern from the triple-LED layout visible. The light is water resistant, and even floats when dropped in water.
One of the drawbacks of the capacity technology is less capacity compared to nickel- or lithium-based battery packs. Peak has a runtime of 13 minutes, standard for 45 minutes, strobe for 135 minutes, and low for 240 minutes. In addition, the light features a 20-lumen reserve mode for 15 minutes, ensuring plenty of warning before complete energy depletion.
Since 5.11's specifications don't state ANSI adherence, we conducted some runtime tests for the PC3.300. We were able to get 30 minutes of relatively stable output from the standard mode, and more than 30 minutes of additional lower output.
Battery Type
Runtime
(Peak)
Runtime
(Standard)
Runtime
(Low)

Capacitor

13m
Regulated: 30m
Total: 1h
4h
Accessories
5.11 offers two additional add-ons, such as traffic wands and a belt loop. The charging cradle included with the PC3.300 only has a 12V cigarette lighter plug, so a 12V AC adapter is included with the PC3.300.
Since the AC adapter has a standard cigarette lighter plug, it can also be used to power other vehicular chargers, as long as they don't draw more than 65W.
Conclusion
In addition to the PC3.300, 5.11 Tactical offers a larger model called the UC3.400. The UC3.400 has a higher output of 270 lumens at peak mode and slightly longer runtime, but would be categorized as a full-sized rechargeable.
All in all, the PC3.300 is definitely proof-of-concept for capacitor technology. For extended use or additional brightness, conventional power sources would be more reliable, but the Light for Life PC3.300 shows promise for applications where short bursts of use and quick recharging are vital.
---
Pros
Cons

Peak, standard and strobe modes
Dual independent switches
Lighweight, yet solid
Wide flood beam
Fast charging
Lifetime warranty

Complicated user interface and program choices
Short runtime
Stiff buttons
Significant self-discharge
---
Related Links
5.11 Tactical Series Light for Life PC3.300 Product Page