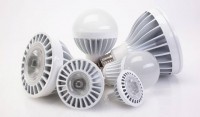 The Home Depot's new line of EcoSmart LED bulbs, which have been sold exclusively in their home improvement stores since September 2010, offer advanced LED technology along with local availability and competitive pricing. The first of the EcoSmart LED bulbs is a 8.6W 40W-replacement A19 bulb, producing 429 lumens and retailing for $19.97.
LED bulbs can last up to five times longer, and use up to 50% less energy, than compact fluorescent bulbs (and up to 85% less energy than incandescent).
LED-Resource will be taking a closer look at the 8.6W EcoSmart LED bulb in the near future, so stay tuned!
---
Related Links
Home Depot EcoSmart A19 8.6W (40W) LED Bulb Product Page
Home Depot EcoSmart G25 8W (40W) LED Bulb Product Page
Home Depot EcoSmart PAR20 8W (40W) LED Bulb Product Page
Home Depot EcoSmart PAR30 15W (60W) LED Bulb Product Page