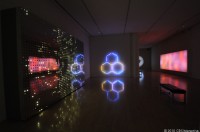 LEDs and mathematical shapes are probably not what most people would think of as art, but for Leo Villareal, these complex LED-based creations are what is known as "digital art." Villareal's works range from the size of an average painting to an entire wall covered with LEDs.
Pictures do not do justice to these works of art, as many of them change colors or feature advanced sequences of color. Below are a couple videos of his work:
For the full article on CNET, click the CNET Article link in Related Links section below.
---
Related Links