Maglite ML100 LED Flashlight Review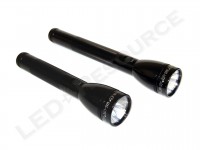 More than just an LED version of the incandescent C-cell, the Maglite ML100 general purpose flashlight is the latest addition to the Maglite product line. Many features of the ML100 are shared with the higher performance ML125 rechargeable model, such as a more compact design, improved optics, and a choice of four user-selectable function sets. After multiple delays due to an upgraded LED and a revised user interface, we have finally received production models of the ML100 for evaluation.
Key Specifications
Output: 137 lumens high, 34 lumens low
Runtime (2-cell): 13h high, 48h low
Runtime (3-cell): 37h high, 78h low
Battery: 2 x C-cell or 3 x C-cell
Length (2-cell): 9.1″
Length (3-cell): 11.1″
Diameter: 1.98″ bezel, 1.20″ body
Weight with Batteries (2-cell): 15.2 oz.
Weight with Batteries (3-cell): 18.4 oz.
Warranty: Limited Lifetime
MSRP: $54.99-$58.99
Actual Pricing: ~$45-$55
Pricing & Ordering
MSRP for the ML100 is $54.99 to $58.99, and the light is only available in black (contrary to the flyers we posted in 2011).
In The Box
Included in the blister packaging are: Maglite ML100 LED Flashlight, 2 x C-cell alkaline batteries (or 3 x C-cell for the 3-cell model), and user manual.
Batteries
The ML100 operates on C-cell batteries, which makes the light less bulky and easier to grip than wider D-cell lights. However, the C-cell form factor is not very popular, so alternatives such as battery adapters for AA's are available (which we used for our NiMH runtime test). Using these adapters not only creates commonality with AA batteries, but also further reduces weight.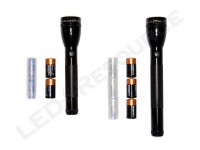 The Light
Head
The head features a plastic window and a shallow smooth reflector. Unlike previous models, focusing is continuous action, so the head cannot be removed.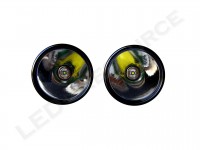 Body
Knurling along the flashlight body gives the ML100 better grip, and the light is type-II anodized aluminum inside and out.
The head mounted switch is an electronic switch similar to that of the XL-series lights.
Tail Cap
A band of knurling is found on the tail cap, and that's about it for the exterior.
Threads are anodized, allowing lock-out with a quarter turn of the tailcap.
Modes
Five modes, which are arranged into four function sets, are available for the user to choose from.
Full Power
100% brightness at 137 lumens.
Power Save
25% brightness at 34 lumens.
Strobe
The 12Hz strobe feature is designed for disorienting or getting somebody's attention.
SOS
SOS is the International Morse Code Distress Signal, which is three short flashes, three long flashes, and three short flashes.
Momentary
If momentary is enabled, the switch must be pressed twice for Full Power. While this is not true momentary operation since Full Power cannot be activated from momentary, it's a clever workaround of the electronic switch.
Function Sets
To change the function set, start with the tailcap slightly unscrewed so that the light does not turn on when the switch is pressed. Press and hold the switch while screwing on the tailcap, and once the tailcap is screwed on all the way, the light will start flashing. The number of flashes corresponds to a function set's number, which are cycled. Releasing the switch selects the function set.
Function Set 1 (Default)
Full Power, Power Save, Strobe.
Function Set 2
Full Power, Power Save, SOS.
Function Set 3
Momentary, Full Power, Power Save.
Function Set 4
Momentary, Full Power, Strobe.
Performance
One of the upgrades that the ML100 received during its redesign was the more efficient Cree XP-E LED, increasing light output to 137 lumens. Since the XP-E LED has a smaller chip size than the XP-G used in the ML125, the ML100 has a more intense beam that will travel a longer distance.
The redesigned focusing assembly of the ML-series allows fine-tuning of the ML100's beam pattern, if desired. Lights are aligned at the factory and both of our ML100's had well-focused beams, so we didn't find this necessary. Although focusing is smoother, there are still some rings and holes when the ML100 is unfocused.
We measured standby power drain of 47.2 µA (or 0.0472 mA) on the 2-cell ML100, and 59.8 µA (or 0.0598 mA) on the 3-cell ML100. Since C-cell batteries have more capacity than the AAA's used in the XL-series, this is less of a concern, but we would recommend locking out the tail cap if the light will not be used for an extended period of time.
Runtime
If you haven't read our article about runtime graphs and the ANSI FL1 Standard, please click here.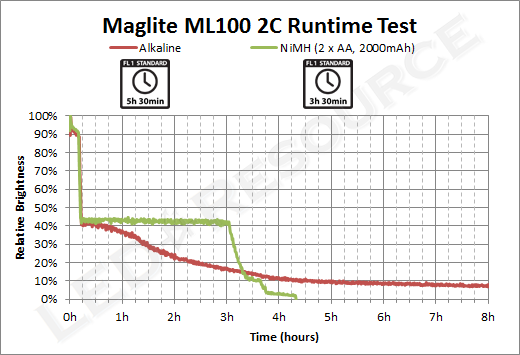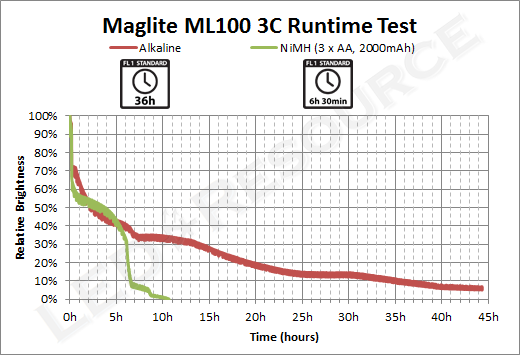 Power-save regulation is also used on the ML100, which reduces output to approximately 50% after 12 minutes of runtime.
If the ML100 is operated with a 90% duty cycle (13.5 minutes on, 1.5 minutes off), maximum output is maintained for a shorter amount of time and the runtime graph resembles that of a flashlight without an automatic energy-saving step down.
Accessories
Maglite C-cell mounting brackets and belt rings are compatible with the ML100, but since many mid-sized rechargeable flashlights have similar body diameters, open-bottom holsters (such as the Pelican 7078 below) designed for those lights can also be used.
Conclusion
Not only is the ML100 an improved LED flashlight, but also a major step in the right direction for Maglite. Previous generations of Maglite's MAG-LED technology, including the original LED drop-in replacements and even the current LED D-cell lights, had problems with heat dissipation and irregular beam patterns because they were originally designed for incandescent bulbs. However, neither is a concern anymore with the new ML-series, and the Maglite ML100 offers a lot of features and performance for the $50 price point.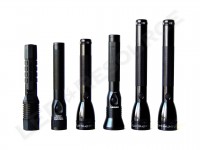 ---
Pros
Cons

Clean focused beam with wide spill
Long runtime
User-programmable function sets
Lockout to prevent accidental activation
Lifetime warranty
---
Related Links
8 Responses to "Maglite ML100 LED Flashlight Review"